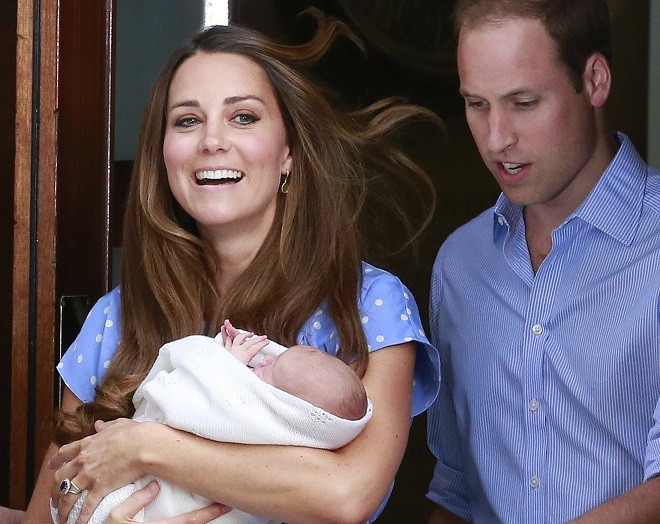 Kate Middleton and Prince William have picked friends over members of the royal family to be Prince George's godparents in another break with tradition.
The Duke and Duchess of Cambridge want to give the royal baby a "sense of stability and normality", a source said.
Kate chose her Marlborough College school friend Emilia d'Erlanger, who helped comfort the Duchess on a 2007 holiday to Ibiza after she and William broke up.
D'Erlanger is also a lifelong friend of William and was one of the people who introduced Kate to William's inner circle before they attended St Andrews University.
Williams' Eton and St Andrews school friend Fergus Boyd has also been chosen as godfather. He was sitting next to William during the famous fashion show where Kate wore a transparent dress.
William reportedly whispered "wow, Kate's hot" as she strutted down the catwalk at the 2002 university fashion show.
Boyd studied art history with Kate and all three shared a farmhouse during their time at St Andrews on the Strathtyrum Estate.
Both Boyd and d'Erlanger are relatively unknown in royal circles, so their selection came as a surprise to many.
Carefully chosen
A royal source said: "They are rather unexpected off-the-wall choices for godparents. They are certainly not the usual suspects of William's closest friends who we anticipated.
"The two of them have carefully chosen and agreed them together."
The third godparent to be announced is William's friend Hugh van Cutsem, whose late father was a friend of Prince Charles. William was an usher at his wedding and is godfather to his daughter Grace.
Kate and William's godparent choices are in stark contrast to Prince Charles and Princess Diana's selection for the Duke.
William's godparents included ex-King Constantine of Greece, ­Princess Alexandra and the Duchess of Westminster.
The couple still have three more godparents to pick. It is thought Pippa Middleton and Prince Harry will take two spots, while other favourites for the final spot include William's St Andrews friends Oliver Baker and Alasdair Coutts-Wood, and Kate's friends Alicia Fox-Pitt, Virginia Fraser and Olivia Bleasdale.
Kate and William will christen Prince George on 23 October in an "intimate, family affair" at the Chapel Royal in St James' Palace.
The guest list is yet to be announced but the Daily Mail claims several senior royal family members have been excluded, including William's aunts and uncles Prince Andrew, Prince Edward, Princess Anne and Sophie, Countess of Wessex.