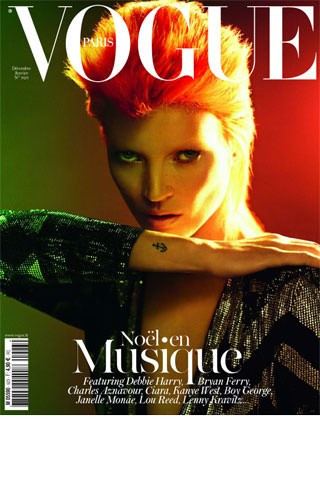 Supermodel Kate Moss is almost unrecognisable in her latest photo-shoot as she recreates famous rocker David Bowies' signature 1970's style for the cover of the French Vogue.
Ms Moss has channelled her inner rocker to portray the Aladdin Sane character Bowie created for his 1973 album of the same name.
With her blonde hair styled into a spiky orange mullet and no eyebrows to speak off the 37-year-old beauty is a carbon copy of the singer in his hay day.
The model, who is infamous for her love of rock stars, is barely recognisable as she graces the cover of the French fashion magazine. Only her anchor tattoo on her wrist gives away her true identity.
This is not the first time that Moss has reincarnated herself into a look-alike Bowie. She imitated the rocker for the Vogue UK back in May 2003.
For that cover she a black and white photo of Kate was place over Ziggy Stardust's famous red and blue lightning bolt.
Ziggy Stardust was a concept album, written and performed by Bowie, loosely based on the life of rock star Ziggy Stardust. It has often been described as one of the best rock albums of the Seventies.
The reinvention of Miss Moss as Bowie is in line with the French Vogues' dedication to music in its latest issue.
Its December issue features Debbi Harry, Bryan Ferry, Ciara, Kanye West, Boy George, Janelle Monae as well as Lou Reed and Lenny Kravitz's choices of Christmas songs. Armenian-French singer Charles Aznavour's selections are also included.