Katy Perry refuses to stay silent about Donald Trump's election into the White House. After rumours her next album will have political leanings, the Dark Horse singer has reportedly confirmed her new music will discuss Hillary Clinton's defeat and take aim at President-elect Trump.
The 32-year-old penned a heartfelt Instagram message expressing her gratitude at winning Unicef's Audrey Hepburn humanitarian award on 29 November. Former Democrat nominee Clinton had the honour of presenting Perry with the award, cementing the friendship they developed through the pop star's endorsement during the US presidential election.
Perry, a staunch advocate of Clinton, told her 59 million Instagram followers: "Slowly, I am coming down from the beautiful cloud that was Tuesday night's @UNICEF Snowflake Ball. First and foremost, I am incredibly grateful to have received the Audrey Hepburn Humanitarian Award from my hero @HillaryClinton...
"I was profoundly moved and thoroughly surprised when Hillary showed up to give me this award. I broke down and wept watching her take the stage. The last time I was in NYC was for Election Night. I left covered in a blanket of sadness and despair because for me, and I imagine others, the results triggered a lot of dormant fears and emotions to the surface. I feared that we were not ever going to see the light of justice or fairness. I felt vulnerable, confused and frightened like a child."
Perry then went on to explain how Clinton's 'roar-ing' attempt to beat Trump in the election inspired her to speak about issues she feels passionately about. The singer said: "Hillary lit a fire inside of me that burns brighter and brighter every day, and that fire will NEVER be put out.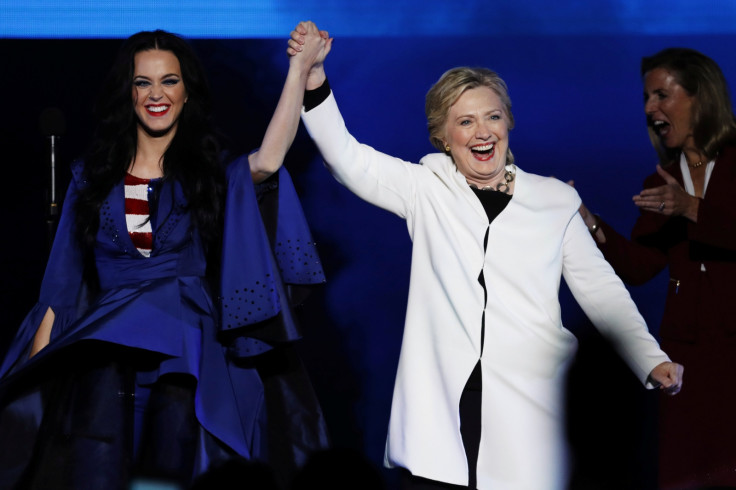 "Feelings of despair still comes in waves, but now more than ever I am MOTIVATED to fight against social injustice and to promote equality and kindness as best I know how, through my art and influence. I am continually inspired by her strength and how she continues to rise like the Phoenix she is, every time."
Divulging details on her forthcoming album – expected in 2017 – Perry concluded: "It's funny, sometimes people who disagree with me just say, "Shut up and sing." Boy, will I do so in a whole new way... next year. Hell hath no fury like a woman REBORN."
Perry's sentiments comes after reports claimed the California Gurls singer delayed the release of her new album to rewrite songs in a politically-charged direction. The singer previously revealed her intentions to embark on a fresh world tour in support of the album next year.