Katy Perry appears to have found true friendship with Hillary Clinton. The former secretary of state presented Perry with an award at the Unicef gala in New York City on Tuesday night (29 November) and hailed the pop star a "champion".
During the organisation's annual Snowflake Gala, Perry, 32, was honoured with the Audrey Hepburn humanitarian award in recognition of her work with the United Nation's children's fund. Putting her defeat against Donald Trump in the presidential election race behind her, Clinton surprised Perry on-stage by presenting her with the accolade.
In a heartfelt speech, Clinton said: "On a personal level, I cannot tell you how delighted I am to be here to help celebrate ... a global megastar, a social media queen with the most Twitter followers in the world – although she's getting some competition – and someone whose powerful voice and creative lyrics remind us when you get knocked down to get back up."
Clinton continued: "I have seen Katy's commitment to the causes she believes in firsthand. I've gotten to spend time with her, and I know how deeply she cares about making our world a better place. She is serious about understanding the complex problems we face and pulling people together to solve them. We need champions like Katy now more than ever: her passion, her energy and, yes, her voice, louder than a lion."
According to audience members, Perry was moved to tears and hugged Clinton when accepting her award. In her own speech, the California Gurls singer said the politician "lit [a] voice inside of me, and that light will never go out.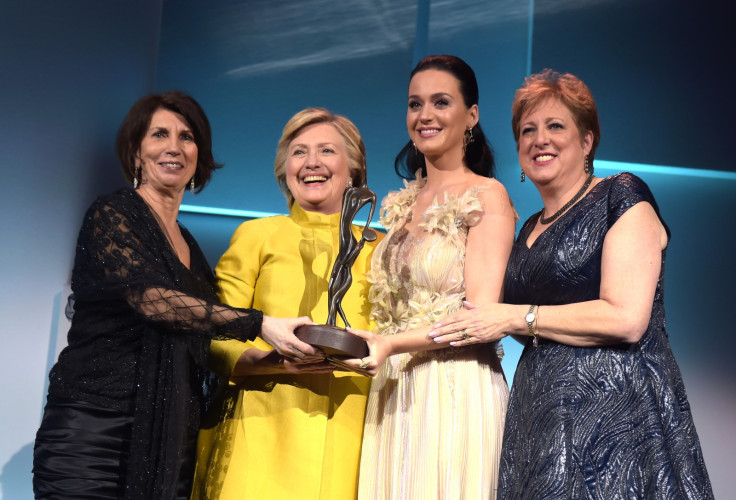 "It will continue to get brighter and brighter and brighter. Thank you, Hillary. You motivate me and so many millions of people. We appreciate you, your incredible work, your heart. Truly my work has just begun, and this award is a starting line, not a finish line."
Perry was one of Clinton's biggest celebrity supporters during her election campaign and attended several rallies for the former democratic nominee. Reports claim the singer has scrapped songs on her forthcoming album to take a political approach, referencing the intense presidential election battle and Clinton.
Watch Hillary Clinton present Katy Perry with the Unicef humanitarian award: