Katy Perry battles against the odds in the music video for her new single Rise. The pop star quite literally hangs off the edge of a canyon and fights with a parachute in the visuals for the Rio Olympics 2016 anthem.
Directed by Paul Gore, the three-minute video begins with Perry, 31, tussling with a pink parachute in an abandoned warehouse and attempting to run against the force of the huge safety net. It proves to be a difficult challenge for Perry, who is repeatedly dragged back by the parachute, but she eventually emerges out of the warehouse and into Utah's vast Snow Canyon.
The songstress later makes it to the edge of the canyon and is seen dangling while trying to pull the troublesome parachute over, interspersed with scenes of her battling with her nemesis in the water – no sign of a paddleboard though. Fortunately, Perry overbears the parachute and rises off the canyon - with the net seen tumbling to the floor as the video closes.
The Rise visuals premiered on 4 August during the airing of NBC's Rio Olympics Preview Special. Perry tweeted ahead of the programme: "Through the blood, sweat (lots of it), and tears, we keep rising." Rise will serve as the official soundtrack for NBC's coverage of the 2016 Olympics which launch on 5 August.
In a statement after debuting the anthemic single, Perry said: "This is a song that's been brewing inside me for years, that has finally come to the surface. I was inspired to finish it now, rather than save it for my next album, because now more than ever, there is a need for our world to unite.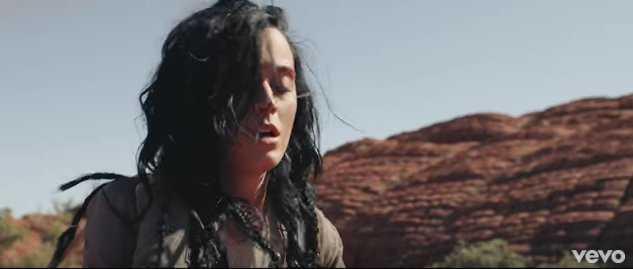 "I know that together we can rise above the fear – in our country, and around the world. I can't think of a better example than the Olympic athletes, as they gather in Rio with their strength and fearlessness, to remind us how we ALL can come together, with the resolve to be the best we can be. I hope this song can inspire us to heal, unite, and rise together. I am honoured that NBC Olympics has chosen to use it as an anthem before and during the Rio Games."
Rise is Perry's first single release since 2014 and is expected to feature on her forthcoming fifth studio album. Rumours are rife that Perry will perform the track at the MTV Video Music Awards (VMAs) on 28 August but the line-up is yet to be confirmed.
Perry released her last album Prism in 2013 and embarked on a world tour spanning 151 dates and wrapping up in October 2015. The Dark Horse singer previously revealed that she will launch another tour to support the new album in 2017.
Watch Katy Perry's Rise music video: