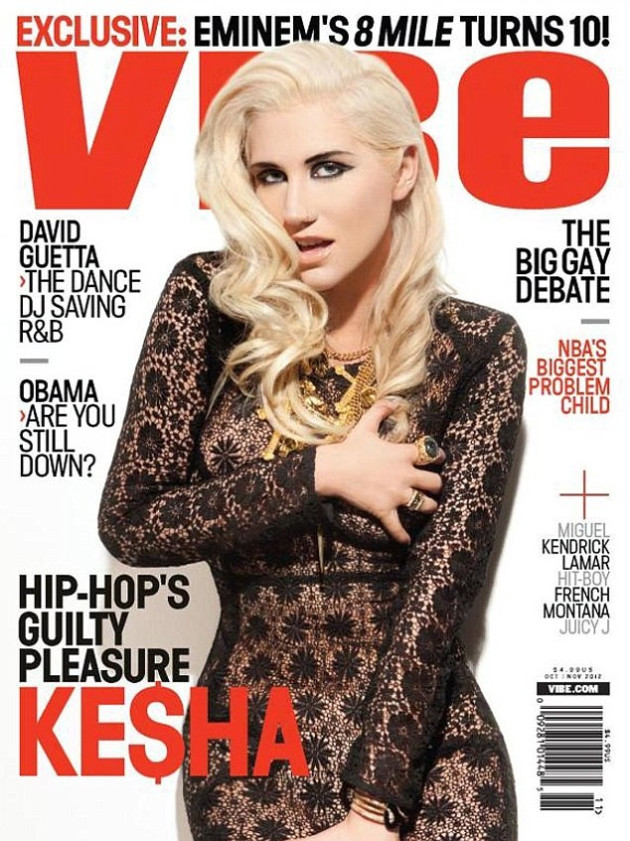 Wild child Ke$ha has become the first solo white woman to pose for the cover of urban music and entertainment magazine Vibe.
The 25-year-old singer and rapper makes history by fronting the November issue of Quincy Jones's magazine.
Vibe featured a cover image of Amy Winehouse after her death in an issue in 2011 but Ke$ha is the first living white woman to grace the cover. Gwen Stefani shared the cover with Pharrell in 2005.
Rocking platinum blonde hair and posing in a revealing lace dress, Ke$ha protects her modesty for the cover image under the label "Hip-hop's guilty pleasure".
In the accompanying interview, however, theTik Tok hitmaker insists she is not a "train wreck" and that her party girl image is just small part of who she is.
"I drink like a champion. But I can also do other stuff. I have a sense of humour about my lyrics. I'm not a train wreck - I'm just having fun," she says.
"I would've gotten eaten alive if I tried to be a heel-wearing little princess. It's just not who I am. I've had people try to make me act right, but it's just not gonna happen. I just can't not say inappropriate things."
Talking about her new album Warrior, she says that her music has progressed since she relased her debut album, Animal.
"The first record was a celebration of partying and being young, but this record's a better look at my personality.
"I did some soul-searching, and realised nothing I'm doing is negative, it's actually super-positive. You can change people's mood in a three-and-a-half minute song. So why not spread positive energy and be funny? Let [the haters] be miserable."