Youth World Cup Sensation Will Join City or United Over Arsenal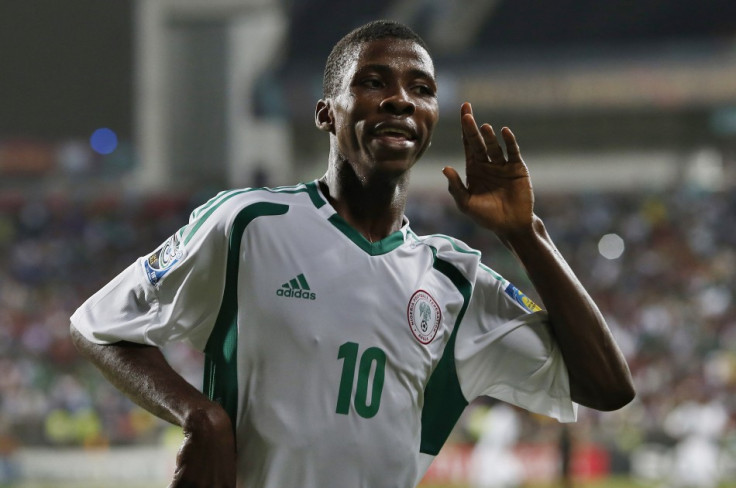 Manchester City and Manchester United are among the clubs ready to secure a deal for Nigerian youngster Kelechi Iheanacho, according to the player's father despite initial interest from Arsenal.
Iheanacho scored six goals at November's Under-17 World Cup, scooping the best player award amid reports he was being scouted by a host of European clubs.
Both FC Porto and Chelsea have been mentioned as potential suitors, while Arsenal chief scout Steve Rowley was also said to have been impressed by his performances.
But in an interview with Super Sport's 'Monday Night Football', his father said he will join United before appearing to correct himself and claim that rivals City were his likely destination.
"As I am talking to you, I have chosen in my mind that Kelechi is going to Manchester United," he said before adding "I have told you that he is going to Manchester City.
"We prayed [on Monday] and, after due consultations with family members, we came up with Manchester City, believing he has a future there. That is where he will be uplifted."
Both City and United are yet to be credited with an interest however it will come as no surprise if indeed the pair have been tracking the progress of one of the most exciting players in world football.
The players' agent Henry Galeano told IBTimes UK earlier this month that Iheanacho was attracting interest from Arsenal.
"I can confirm that Arsenal's Steve Rowley, acknowledged Kelechi Iheanacho's talents early in the World Cup and has said some very nice words about him," he said.
"We're ecstatic to have another major club like Arsenal following young Iheanacho. That said, the attention is well deserved. Iheanacho's performance at the World Cup was indeed remarkable.
"At present we are considering and evaluating all options. Our goal is to match Iheanacho with a club that fits his profile, and a club that can bring out the very best in him.
"If Arsenal is an option on the table, we'll be glad to sit down and consider it. Iheanacho wouldn't be the first Nigerian making it into the team. The thought of him following in the footsteps of the great Kanu definitely has a nice ring to it."
© Copyright IBTimes 2023. All rights reserved.