The possibility that Amir Khan and Kell Brook will finally settle their differences inside the ring is looking increasingly likely after comments from the fighters and their management.
Brook has landed a world title opportunity against IBF welterweight champion Devon Alexander and it seems that Khan would be interested in facing his fellow Brit if he was bringing a world title to the table.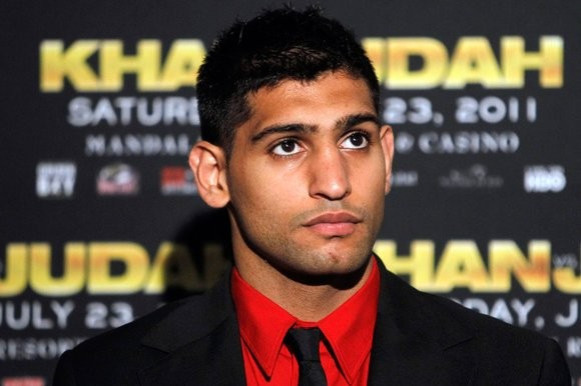 "I think it's a great fight," Khan told BoxingScene, when discussing the bout with Alexander. "I think it's a great step up for Brook because he has been fighting at a lower level.
"I'm surprised he's taking the fight with Devon Alexander. Devon Alexander is a great fighter. It is a great fight for the welterweight division and in the future I can fight the winner.
"If he gets past Devon Alexander, then I think it makes sense to have a fight with him - and he'll have a world title [so] it makes sense to fight Brook maybe in the UK - it would be huge."
Khan has always stated that he would only fight Brook if there was a belt on the line, claiming that the Sheffield fighter had previously brought nothing to the table and was not on the same level.
Brook has been desperate to in the ring with the former light-welterweight world champion and has often called out the Olympic gold medallist.
"I would love to take Khan's chin clean off and everyone knows I want to destroy Khan." Brook said after defeating Argentinean Hector Saldivia.
Brook's promoter Eddie Hearn has further stoked the fire between the two fighters by suggesting that it is now Khan that brings nothing to the table after his two losses to Lamont Peterson and Danny Garcia.
"He's coming off back-to-back losses, he has no belt and he doesn't really bring that much to the table," Hearn told the BBC. "If Amir Khan wants to fight for the title when we've won it then that'll be on our terms."
Khan has often been accused of looking past opponents as he continually talked about a possible showdown with pound-for-pound king Floyd Mayweather before he lost to Peterson.
The 25-year-old has once again been talking more about Brook than he has his upcoming opponent Carlos Molina, leading the American's management to say that he should be concerned about his next bout.
Molina's manager Frank Espinozza believes has warned that Khan will be forced into retirement after the December 15 bout in Los Angeles.
"Lamost Peterson softened him up, Danny Garcia knock him out, and Carlos Molina will retire him," Espinozza told BoxingScene. "When we come to the ring, we are bringing a stretcher because we want Amir to be comfortable when they take him to the back."