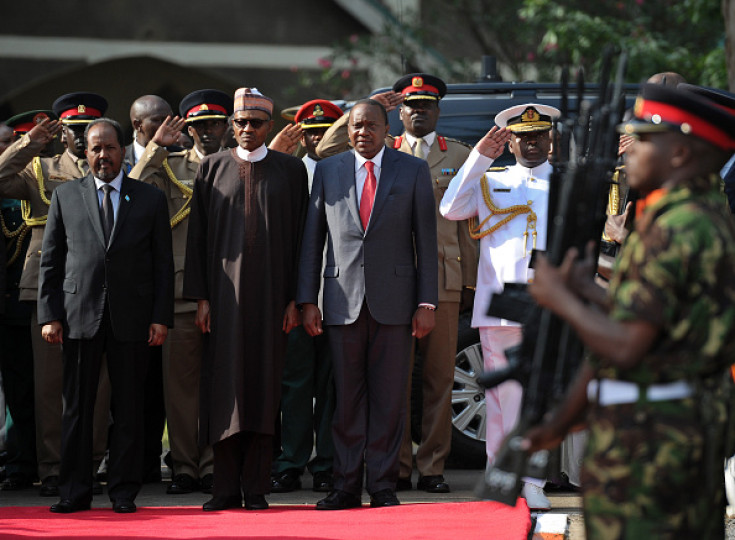 Nigerian President Muhammadu Buhari has called on the international community to be more determined in its fight against terrorism. The leader made the remarks during a three-day official visit in Kenya, where he attended a memorial service to honour Kenyan soldiers killed by Al-Shabaab terrorists in an attack in Somalia earlier in January.
"Terrorists should not have a place in our communities, villages, towns, cities and countries. We must all rise against the culture of intolerance, hatred and extremist ideologies, which drive terrorism," Buhari said, according to a statement by his spokesperson Femi Adesina.
"We must also act with more firmness against radicalisation and all those who promote values and principles that threaten our unity and cohesion as a people. Nigeria is willing to work with Kenya, other African countries and the global community at large with a view to defeating these undesirable elements.
"We must take the battle to the terrorists whoever they are and wherever they are. This requires commitment, sacrifice, resources, collaboration and above all a realisation that no country is immune to the scourge, as terrorists do not respect national boundaries, race, colour, religion or creed," the leader continued.
Buhari made the remarks as at least 13 people were killed in attacks blamed on Boko Haram terrorists in northern Nigeria. Co-ordinated bombings hit the Chibok village, in the restive Borno state, where the terrorists kidnapped 219 girls in April 2014.
At least three suicide bombers, some of whom were women, detonated explosives in the town during market day.
Although no group claimed responsibility for the attack, Boko Haram is renowned for kidnapping civilians – mainly women and children – and forcing them to carry out suicide bombing missions.
Offensive successful but attacks continue
The Nigerian army is leading a regional offensive – consisting of 8,700 troops from Nigeria, Niger, Chad, Cameroon and Benin – against Boko Haram. The offensive has scored some successes, such as the recapture of key territories and the recovery of arms and vehicles used by the terrorists during their attacks.
Although Buhari declared a technical victory over the fight against the insurgents in December 2105, Boko Haram has been carrying out scattered attacks across north-eastern Nigeria and neighbouring countries.