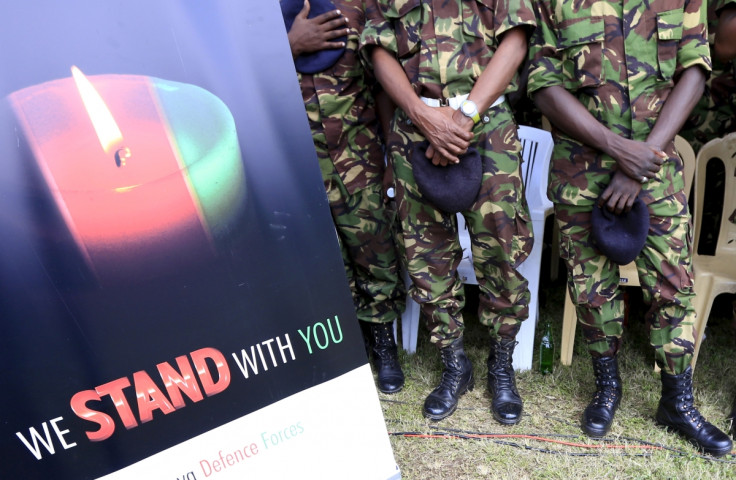 Kenyan President Uhuru Kenyatta will be joined by fellow African heads of state on 27 January as he attends a memorial service in the town of Eldoret to pay tribute to scores of soldiers, who were killed in a deadly attack launched by terrorist group Al Shabaab on 15 January. The militant Islamists claim to have killed 100 Kenyan soldiers during the assault on a military base in the southern Somali town of el-Ade, but Nairobi has not released figures.
Somali President Hassan Mohamoud has already been received at Eldoret Airport, while Nigerian President Muhammadu Buhari is expected to touch down shortly.
Buhari will be greeted by traditional dancers upon his arrival and will begin his three-day state visit to Kenya by joining fellow dignitaries for the memorial service.
After meeting with Kenyatta, the pair will be transported via air to Moi Barracks, around 25miles (40km) away. Eldoret is reportedly under heavy security with military vehicles and police on horseback patrolling the streets. Police spokesman Charles Owino said: "We cannot take chances. There are heads of state in town and we have to be ready."
Following the memorial service, Buhari and Kenyatta will hold talks along with other government members at a business forum in the Kenyan capital, Nairobi. Buhari is being accompanied by the ministers of foreign affairs, finance, and industry, trade and investment, according to Nigerian news organisation Naij.com.
Buhari will depart Kenya on 29 January and head to the Ethiopian capital, Addis Ababa, to attend the 26th Summit of African Union Heads of State and Government. He will return to Nigeria on 31 January.