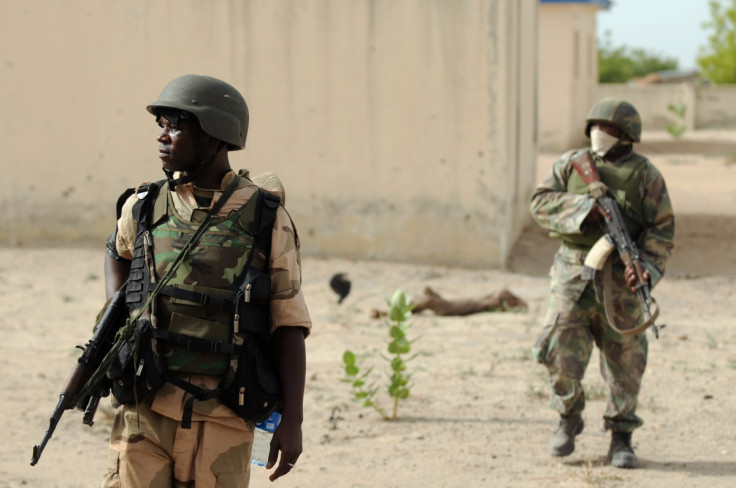 Nigerian soldiers have killed dozens of insurgents and freed more than 300 hostages during raids at Boko Haram terrorists' camps in the northeast of the country. During a conference in the restive Borno state Major-General Lucky Irabor said the army had raided camps in several areas across the state.
Irabor said troops killed three Boko Haram members on the way to Ajigin and another 21 during clashes in Marte area. Eight terrorists were killed in Ruga Fulani and another 20 at Kudiye and Mijigete. Some Boko Haram suspects were also arrested and interrogated.
Among the weapons recovered were AK47 rifles and mortar bombs. The army also seized explosive devices and vehicles including a Toyota Hilux and a Land Cruiser.
The general also explained that the operations resulted in the rescue of 370 hostages who were brought to an internally displaced persons' (IDP) camp in Dikwa.
Boko Haram, which has killed thousands of people since its insurgency began in 2009, is renowned for kidnapping civilians – mainly women and children – and forcing them to carry out suicide bombings.
The group's wide practice of kidnapping civilians came under the international community's spotlight after the insurgents abducted some 219 school girls from Chibok, a remote village in Borno, in April 2014.
The girls are still mssing, amid reports they were sold as slaves or they died in suicide bombing missions.
President Muhammadu Buhari said the government is ready to negotiate with the terrorists to release the girls. The leader also ordered a new investigation into the mass abduction.
Offensive successful but attacks continue
The Nigerian army is leading a regional offensive – consisting of 8,700 troops from Nigeria, Niger, Chad, Cameroon and Benin – against Boko Haram.
The offensive has scored some successes, such as the recapture of key territories and the recovery of arms and vehicles used by the terrorists during their attacks.
Although Buhari declared a technical victory over the fight against the insurgents in December, Boko Haram has been carrying out scattered attacks across north-eastern Nigeria and neighbouring countries.
On 18 January, at least four people died in an attack at a mosque in northern Cameroon blamed on the group.