The autopsy results on Kenyan lawyer Willie Kimani, his client and taxi driver are shedding some new light into what happened to the three victims who were found murdered last Friday (1 July).
The bodies of Kimani, his client Josphat Mwenda, and their taxi driver Joseph Muiruri, were recovered from Ol-Donyo Sabuk River in Machakos County, 73km north-east of Nairobi, on 30 June, a week after the three went missing.
A lawyer working with the International Justice Mission (IJM), Kimani had been representing Mwenda in a case stemming from 10 April 2015 – in an incident where an officer from Syokimau Administration Police (AP) Camp shot him during a traffic stop.
Several organisations suggested the three men were allegedly abducted by the AP as they left court in Machakos County, outside of the capital Nairobi, last week.
The assassinations, described by Human Rights Watch (HRW) as "heinous killings", have sparked protests in Nairobi and other parts of Kenya.
Hit by blunt objects and strangled
The autopsy report has revealed the three men were killed with blows to their heads using blunt objects and strangulation.
According to the Government Pathologist Johansen Oduor, who led the eight-hour autopsy at Nairobi's Kenyatta National Hospital, Kimani's post-mortem report shows the lawyer was smashed several times on the back of the head with a heavy blunt object and sustained a fracture of the skull.
"The object they used to kill the lawyer seemed to have been heavier than the one used on the rest, the fracture was more severe," Oduor was quoted as saying by local media.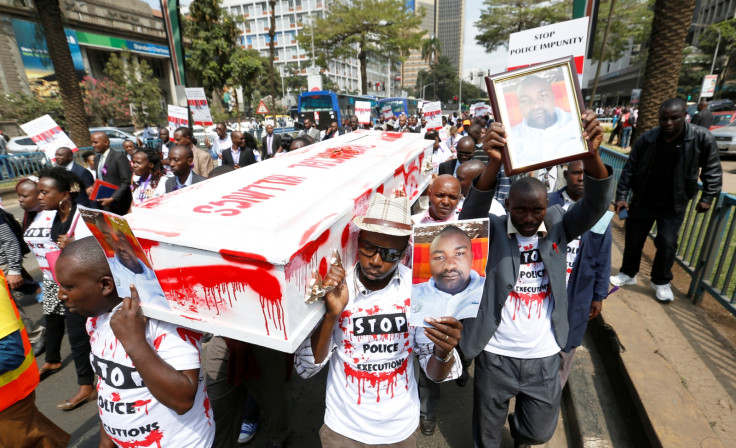 Detectives from the Homicide Department at the Directorate of Criminal Investigations (DCI) headquarters alleged Kimani's client Mwenda may have been the main target because of the extent of the brutality he endured. His post-mortem report revealed his skull was fractured and severe bleeding was found in his chest and neck.
Muiruri was also strangled and his autopsy showed he sustained head injuries believed to have been caused by a blunt object.
'Three more officers pursued over murders'
On 2 July, Inspector-General of Police Joseph Boinett confirmed three AP officers attached to the Syokimau AP Camp – Frederick Leliman, Stephen Chebulet and Sylvia Wanjiku – were being held over offences relating to the killings.
They appeared in court on 4 July and were detained for 14 days to conclude investigations.
However, Andrew Gachie who represented the Law Society of Kenya (LSK) during the post-mortem on 5 July, told media investigators are pursuing three more police officers over the murders of the three men.