A Kenyan lawyer, his client and a taxi driver may be the victims of an enforced disappearance after having been missing since 23 June 2016, Human Rights Watch (HRW) has warned. In international human-rights law, an enforced disappearance occurs when a person is arrested, detained or abducted against his or her will or otherwise deprived of their liberty by officials of different branches or levels of government.
Kenyan and international human rights organisations have claimed that the lawyer, Willie Kimani, his client, Josphat Mwenda, and their taxi driver, Joseph Muiruri, were allegedly abducted by the Administration Police (AP) last week as they left a court in Machakos County, outside of the capital Nairobi.
Kimani is a lawyer working with the International Justice Mission (IJM). He has been representing Mwenda in a legal case stemming from an incident that took place on 10 April 2015, in which an AP officer from Syokimau AP Camp shot him during a traffic stop.
'Fabricated' charges to cover up shooting
According to eyewitnesses, the AP officer shot Mwenda, a passenger on a friend's motorcycle, without provocation, after which the AP officer transported Mwenda to hospital together with his colleague, and thereafter placed him in police custody.
IJM believes that the officers fabricated a number of charges – including being in possession of narcotic drugs, gambling in a public place and "resisting arrest – in an attempt to justify the shooting. Four other officers, who were not at the scene, recorded statements in support of these charges. Mwenda sought legal assistance with IJM who immediately took on his case and investigate what it considers to be "malicious and fabricated charges".
"What surprised us is that four other officers who were not at the scene recorded statements to support the charges," Otsieno Namwaya, Africa researcher at HRW, said. "That is why IJM decided to defend Mwenda."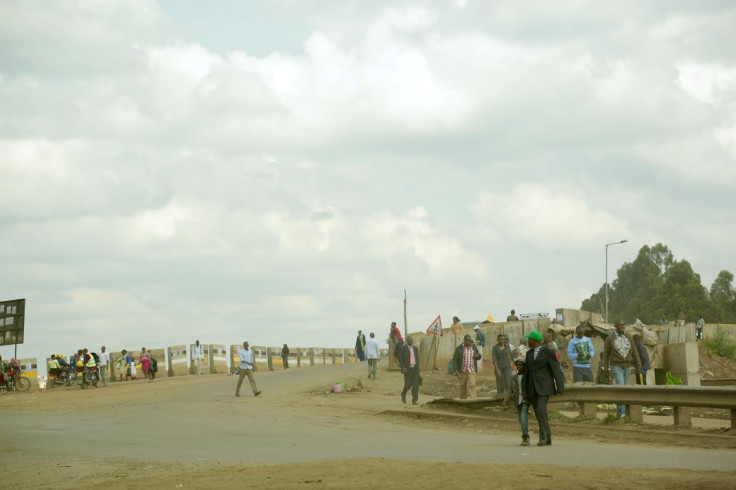 Mwenda filed a complaint over the shooting with the country's Independent Policing Oversight Authority, a civilian police accountability body, against the senior AP officer. Police later charged Mwenda with six traffic offences, including riding a motorcycle without a helmet, on 13 December 2015. On 16 February 2016, Wamaitha said, two men claiming to be officers from the police's Directorate of Criminal Investigations arrested Mwenda again, alleging that he was a suspect in a violent robbery.
At the time, the lawyer told HRW that these charges and threats appeared to be an effort to intimidate Mwenda and pressure him to withdraw his complaint against the police.
Police should urgently locate the disappeared
HRW, meanwhile, called on the Kenyan police to urgently locate the three men. "The three men have been missing for over a week... The police inspector general should be ordering his officers to urgently find out where the men are and ensure their safety and well-being."
There is credible evidence the men were, at some point, unlawfully detained at the Syokimau AP Camp, and were moved soon thereafter.Any police officers involved in the men's disappearance should be held to account for what would be a very serious crime, HRW said in a statement on Friday (1 July 2016).
"Police should not hesitate to interrogate and arrest their own officers when there is cause," Namwaya said. "This case stands as a clear threat to the legal profession and all those who push for police accountability in Kenya."
While Kenyan lawyers held a protest on 30 June and petitioned the police inspector general for information regarding the men's whereabouts, officers from the police unit known as the Flying Squad, along with the Directorate of Criminal Investigations, have opened an investigation.
HRW stated that should police officers, or other government agents, be involved with or implicated in depriving the men of their liberty and concealing information about their whereabouts, their actions would constitute an enforced disappearance. Enforced disappearance is a serious violation of human rights for which there is no justification.
Organisations calling for the release of the three men include the Kenya National Commission of Human Rights, Amnesty International, Kenya Human Rights Commission and National Coalition of Human Rights Defenders.
UPDATE
01/07/16 12:54 GMT:
Kenyan human rights lawyer Willie Kimani has been found dead, according to his employers, the International Justice Mission (IJM).
Kimani's body was found along with that of his taxi driver Joseph Muiruri. His client, Josephat Mwenda, is still missing, IJM said.
In a statement, IJM says the bodies were found in Ol-Donyo Sabuk River in the capital, Nairobi.
"We are deeply mourning the loss of our colleague, Willie, and taxi driver, Joseph, and strongly condemn the perpetrators of these murders and the horrific violence inflicted upon these men," Gary Haugen, IJM chief executive, said. "We will seek justice for Willie, Josephat, and Joseph, and will not cease in pursuit of this case until that end is secured."
The Inspector General of police Joseph Boinett, meanwhile, has ordered the arrest of three police offers suspected to be involved in the kidnapping, according to local media reports.