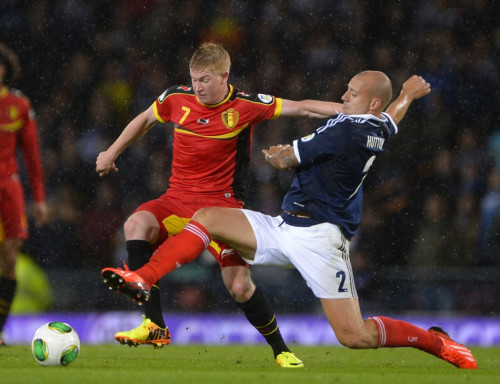 Wolfsburg new boy Kevin de Bruyne has revealed his marginalisation from the Chelsea first team led to his departure to the Bundesliga.
Despite being assured an integral role for the Blues this term, the Belgian international has made just two starts in the Premier League this season and was sent to train with the Under-21's after a poor performance in the League Cup against Swindon Town.
De Bruyne has signed a four-and-a-half year deal with Wolfsburg but has spoken of his regret how his Chelsea career – which was expected to come to life this season – has ended in acrimonious circumstances.
"In the summer he [Mourinho] convinced me to stay, although there was a nice bid from [Borussia] Dortmund on the table," De Bruyne explained to Belgian newspaper Het Laatste Nieuws.
"I also talked to Atletico Madrid. It was a good option, but I wasn't sure I would be playing there.
"I didn't leave Chelsea because I have to go to the World Cup - it could be over after three games - but just because I lost my joy.
"My pre-season was good, my first game too, but I still don't know why I lost my place after the game against Manchester United.
"I've also never asked Mourinho. He has never told me: 'Kevin, you don't train well'.
"It's a pity he told a press conference that I wasn't doing well on the training pitch. That's not me. I'm always a player who gives the full 100 per cent in training. Those remarks created a wrong image."
Chelsea have wasted little time in spending the money recouped from the sale of De Bruyne, with Nemanja Matic joining from Benfica in the club's first signing of the January transfer window.
Now assured of more regular first-team football, De Bruyne is now likely to travel as part of Belgium's World Cup squad and Wolfsburg boss Dueter Hecking is delighted to sign the former Chelsea man.
"Kevin is a player with outstanding qualities," Hecking said.