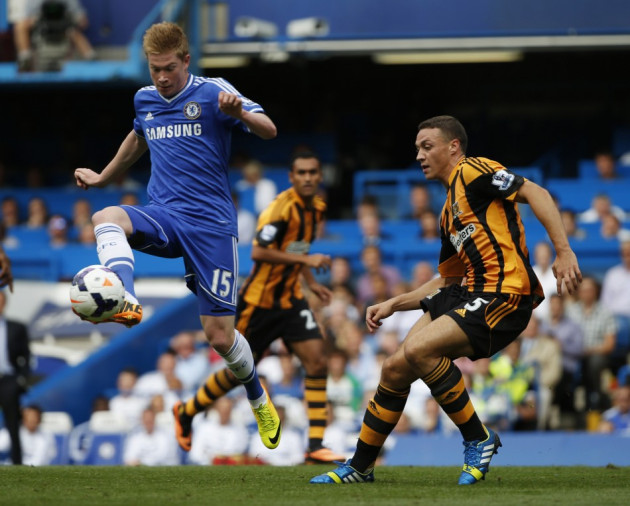 Werder Bremen have offered Chelsea's Kevin de Bruyne an exit-route out of Stamford Bridge in the January transfer window after the Belgian suffered the ignominy of being forced to train with the club's Under-21 side having been dropped by Jose Mourinho for the Champions League trip to Steaua Bucharest.
De Bruyne started two of the Blues' first three league games this season, an indication that Mourinho, who promised regular first-team activity for the 22 year old this term, was intending to use the former-Genk midfielder on a consistent basis.
However, De Bruyne has earned just one start since then, starting against Swindon Town in the League Cup and giving a performance which saw him omitted from the squads to face Totteham Hotspur and then travel to Romania to face Steaua where Chelsea cruised to a 4-0 win.
Mourinho sought to criticise De Bruyne's performance at the County Ground, a game which Chelsea won 2-0, and consigned the youngster to training with the club's Under-21 team.
De Bruyne's role in the first team has taken such a dramatic u-turn that reports have suggested that Chelsea may look to send the player on a third loan spell in two years in order to prevent him stagnating on the periphery of first team activities.
He spent last season on loan at Bremen, following six months at former club Genk after joining Chelsea in January 2012. A move to Bayer Leverkusen as part of a deal that saw Andre Schurrle move to west London was blocked but Bremen are keen to once again come to De Bruyne's rescue.
"Should Kevin be unhappy, we are an eager first contact," the club's general manager Thomas Eichin said. "I am in contact with his agent and am informed about Kevin's situation at Chelsea.
"I know Kevin, if he doesn't play it is certainly a big problem for him. Let's wait and see what happens in the winter. We will be ready, if there is a possibility, to get him."
After scoring 10 goals in 33 Bundesliga appearances while on loan last season, De Bruyne would be a welcome addition to a Bremen side who have won three of their opening seven league games.
In response to rumours regardinghis future, agent Patrick De Koster told VTM: "Of course this is a difficult situation. But Kevin told me that he will continue to work to prove that at Chelsea he is worth his place in time.
"A departure is absolutely out of the question, it is much too early in the season."
The saga regarding De Bruyne mirrors that which surrounding Juan Mata during the early weeks of the season after the Spaniard, who won the club's player of the year award in the past two campaigns, was left-out of the first team.
And Mourinho, when questioned about De Bruyne's omission against Steaua, said the midfielder must follow Mata's example.
"He was not selected [De Bruyne," Mourinho said. "It was my decision. Only 11 can play and 18 can be selected.
"I try to decide by what they do on the pitch when they play and what they do in training.
"I try to be honest with Juan and say that he's going to play tomorrow, because of what he did in training and because of what he did in the matches he played.
"With Kevin it's the same. He's not selected because I didn't like the match he played against Swindon and I didn't like the way he was training."