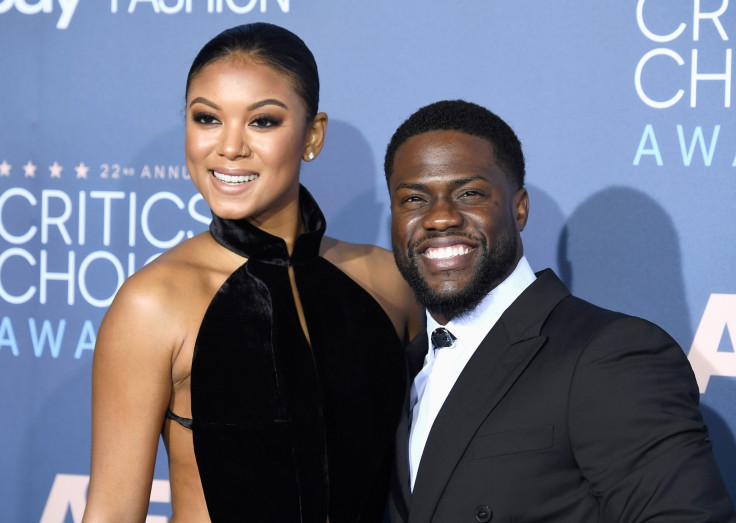 Kevin Hart's pregnant wife, Eniko Parrish, has been seen for the first time since it emerged that the comedian was at the centre of sextortion bid thanks to a "bad error in judgement".
The model was spotted on Sunday (17 September) as she made her way to an animal hospital with the couple's dog, Roxy. Despite reports that Hart had been unfaithful, a defiant Parrish was photographed still wearing her wedding ring.
Just hours earlier, Hart released a groveling video admission and apology for his wife and children, seemingly admitting infidelity on his part.
"Sending so many apologies to my wife & kids. I gotta do better and I will. I'm not perfect and have never claimed to be...I love you all," the Wedding Ringer actor captioned the confessional video, shared on Instagram.
However, the woman who tried extorting the 38-year-old entertainer with the sexually-suggestive five-minute video is refusing to let him off the hook that easily.
According to TMZ, the video begins with a photo of a man that looks like Hart grabbing unto a woman's thigh and then shows a scene with two people having sex on bed. Audio from several radio interviews in which Hart claims he would never cheat on his wife is dubbed over. "It's not worth it at all man," he says at one point.
The unidentified woman told TMZ that she wanted to expose Hart as not just a cheater, but a phony.
"The real reason Kevin Hart orchestrated the Texas Hurricane Relief Fund, this so-called good deed was done to get ahead as he knew this damaging footage was one click away from being exposed as the liar and cheater he is," she told TMZ. "Kevin Hart was privy to me wanting to expose him as I have made countless attempts to expose this information to various blogs, in an attempt to also get paid. However, Kevin Hart was tipped off every time and likely paid them off as they would not take on the story."
The woman goes on to claim the Hurricane Harvey Relief Challenge was just an "attempt to play hero to gain credibility once this was released".
Back in July, Hart laughed off claims he cheated on wife Eniko after it was alleged the 38-year-old was seen getting cosy with a mystery brunette outside a Miami hotel at 5am in a car.
The father of two had shared a meme of himself laughing with the captions: "At the end of the day, you just gotta laugh at the BS. #LiveLoveLaugh .....SMDH."
When his satirical approach didn't have the desired effect, he decided to address the claims head-on, telling Entertainment Tonight's Kevin Frazier: "It's absolutely not true. It's Miami, the clubs close at 6 a.m., so I was actually going home early."