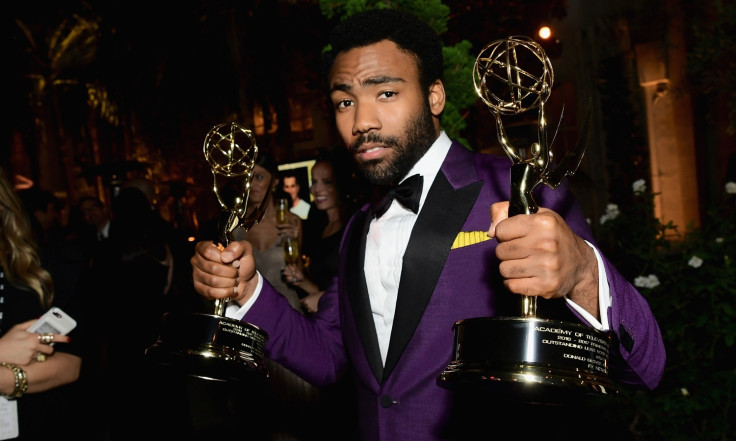 Donald Glover's Emmy win last night for Outstanding Directing in a Comedy Series wasn't just historic for being his first Emmy, it also marked the first time that a black director has won the award. He won for his work on Atlanta, which he also wrote and starred in.
On a politically-charged evening, Glover referenced President Trump in his acceptance speech. "I want to thank Trump for making black people number one on the most oppressed list. He's the reason I'm probably up here."
Glover also won the Emmy for Best Actor in a Comedy, which has only been won by one black actor before: Robert Guillaume in 1985 for Benson.
"Man. Yo, first I want to thank the great algorithm that put us all here," Glover said in his first acceptance speech. "I want to thank my parents who are in the audience. This is nuts." He also thanked his brother and fellow writers.
Glover also thanked Tokyo-born filmmaker Hiro Murai, who has worked with the star on his music videos under the stage name Childish Gambino.
"He taught me everything about directing," Glover said. "He had the eye for this show first and we sat down and he is just amazing. I really want to give this to Hiro and say, I love you and thank you for being my best friend and making this with me and I just love everybody out here for letting me be up here so thank you, thank you all."
While Glover is the first black director to win the Emmy for Outstanding Directing in a Comedy Series, he's not the first to win a directing award. Three men have won the equivalent award for drama: Thomas Carter for Equal Justice, Paris Barclay for NYPD Blue (twice), and Eric Laneuville for I'll Fly Away.
Glover is a modern renaissance man whose career spans the television, film and music industry. Winning acclaim in each field, he first made his name as a writer on NBC sitcom 30 Rock before a role in cult comedy series Community.
As Childish Gambino he made a (second) name for himself with debut album Camp and second Because the Internet, but it was third album Awaken, My Love with which he really struck gold last year.
Atlanta, about the local Atlanta music scene, has been winning plaudits as Glover's big screen career has notched up bigger roles. He played a small part in Spider-Man: Homecoming this year and will play a young Lando Calrissian in the untitled Star Wars spin-off about Han Solo in 2018.
He's also on board to voice Simba in Disney's upcoming remake of The Lion King.