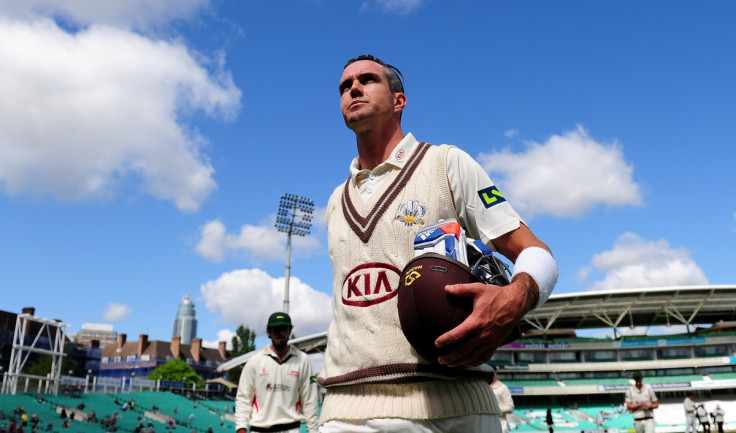 Kevin Pietersen has admitted that England director of cricket Andrew Strauss made the right decision in omitting him from the Ashes squad to face Australia, after Alastair Cook's team regained the urn. Pietersen's future international aspirations were all-but-ended when Strauss and England and Wales Cricket Board (ECB) chief executive Tom Harrison ruled the 35 year old out of being selected during the summer due to "trust issues".
England beat Australia 3-2 in the five-match Ashes series to avenge the 5-0 whitewash defeat Down Under in 2013-14, the last time Pietersen represented his country. Since then, the South African-born batsman has been exiled from the team and published his highly controversial autobiography, which took aim at the ECB and individuals in and out of the dressing room.
Though Pietersen refuses to admit that his book, published in October 2014, led to him being marginalised by the ECB, he concedes that given the Ashes result Strauss made the correct decision in overlooking him for selection. The former Nottinghamshire, Hampshire and Surrey right-hander continues to harbour hopes of a return to the England fold, though.
"I didn't find it hard [to watch the Ashes] at all," he told the Sport Industry Breakfast Club. "I love seeing England win. I have some real close buddies in that side and seeing them do the business was something that made me happy. Seeing those guys play so well and just seeing the structure and the way it has developed makes me so happy.
"As long as I love batting, then I want to bat at the top level. As soon as I stop loving my batting and loving practising then I'll stop. When I think I can play the way I have over competitions all around the world then of course in would love to play Test cricket. If that can't happen then I will just keep applying my trade anywhere I can over the next few years."
The meeting with Strauss last May came after Pietersen had scored a first class best of 355 not out for Surrey against Leicestershire in the County Championship. Though he disagreed with the decision at the time, Pietersen says the England director made the right call. "I went in there with a lot of positivity and left with quite a bit of negativity," he added. "[Strauss] had a decision to make, he made his decision and it has turned out absolutely fine; England won the Ashes.
"At the time I would have said it was ridiculous and nonsense but England won the Ashes. I don't draw back to a meeting in May and think 'goodness how things could been different'. Absolutely [Strauss made the right decision]. It seems like the right decision at the moment and good luck to him. He's done ok and some of things he's done getting past players back into the dressing room is brilliant because there is so much knowledge out there which we missed out on.
"If [the door is shut] it is. I am not going to harp on about things that are happening or have happened. I have to live my life. Has [my autobiography] affected my career? I don't know. Would I be selected if I had not [published the book]? I don't know either. There is a whole new structure in the ECB."