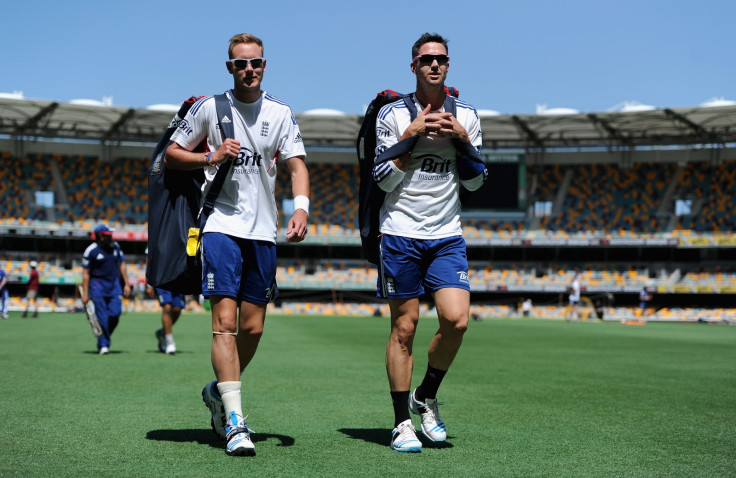 Stuart Broad has played down claims members of the England team pushed for the continued omission of Kevin Pietersen and insists he would have no trouble sharing a dressing room with the exiled batsman again.
Pietersen, 34, was last week told by the ECB's new director of cricket Andrew Strauss that he will not be recalled to the England set up because of a "massive trust issue".
In a week dominated by the future of the South African-born batsman, reports suggested that senior members of the England dressing room had threatened to walk out if Pietersen was invited back in.
But Broad dismissed such suggestions and claims the breakdown in relationship between the England camp and Pietersen has been blown out of proportion.
I've genuinely not spoken to anyone above me or to anyone in the team about KP," Broad said.
"It doesn't hurt me or anything, but when people try to put big divides between players and Kevin... I mean, we shared a changing room for eight or nine years. He's helped me from time to time. We've never raised voices at each other. It's almost perceived to be worse than it is between the players."
Following last week's announcement, Pietersen wrote in his column in the Daily Telegraph he had challenged Strauss to name members of the England set up who no longer trust him, only for the new director of cricket to refuse his demands.
Having denied talk an ultimatum being issued to England's decision makers, Broad added he and his teammates cannot pick and choose who they want to play alongside.
"The biggest point is that players don't have a choice over who they're playing with. But anyone in the dressing room who gets given that shirt and cap, you trust, because people above you have made the decision that they're the right people to play for England.
"Down the line, and I don't know what people are thinking, but if in five years' time selectors decide KP is this guy they want back in this England side, if people have decided above me that he's the right person to do that, then of course [he would be prepared to play alongside him]."