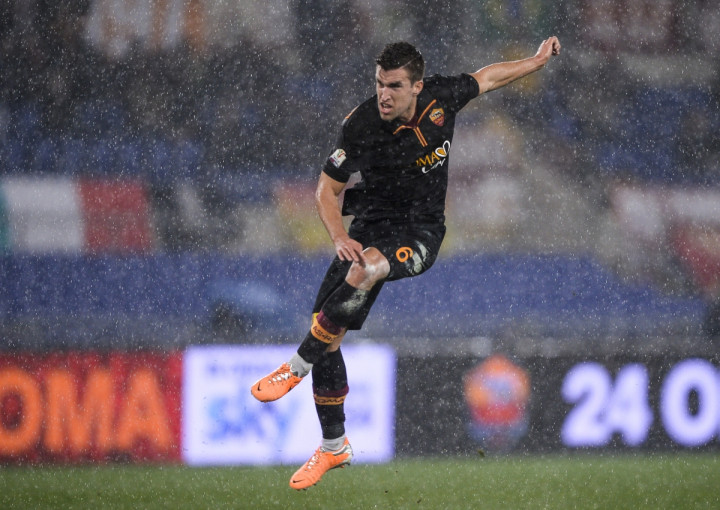 Netherlands and Roma midfielder Kevin Strootman is of interest to Manchester United manager Louis van Gaal but is not a definitive transfer target for the Premier League side.
Strootman was omitted from the Dutch World Cup squad after sustaining an anterior cruciate knee ligament injury in March and though is unlikely to return until the new season he has long been linked with a move to Old Trafford.
Though the player's agent Chiel Dekker claimed Van Gaal's interest has nothing to do any proposed move to United, he admits a deal could be in the offing despite the 20-time Premier League champions having yet to make contact.
"He won't be back playing until autumn - that's the time schedule at the moment," Dekker told The Guardian. "He is of interest to Louis van Gaal but not related to Manchester United at this point.
"Could be [a target for United]. But he's in Rome and he had a terrific season. There has been nothing between the clubs or between Louis and Kevin - they know each other and like each other but at this stage it's not related to Man United.
"Roma do not want to sell. The first thing is its all between [the] clubs. And it's also a very difficult decision because he has to choose between a fantastic club in Rome, a club that bought him and supported him while he was injured and [then] you have his personal coach of the national team at United.
"The clubs have to decide. He's very happy at Rome, he's happy to stay because they play Champions League next season, and happy to recover his injury, so at this stage we are not part of any discussion."
Van Gaal's appointment has led to a myriad of current and former players been linked with a move to United ahead of the new season as the 62 year old looks to turn around the club's fortunes after David Moyes' haphazard spell in charge.
The Netherlands coach – who will being official United duties after the World Cup – has given the club a list of transfer targets but has refused to admit whether Strootman is among them.
"Success at United doesn't depend on money, but about which players we bring in," he told NOS in May. "I gave my wishlist to the club. Is Kevin Strootman on it? A question for you, a fact for me."