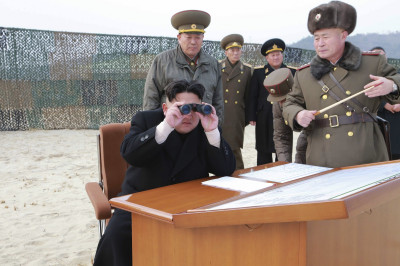 North Korean leader Kim Jong-un is expected to make an unprecedented official trip to Moscow in May, in a move that underscores the growing diplomatic ties between the two neighbours.
The Kremlin has confirmed that the hermit kingdom's communist dictator has accepted an invitation to attend celebrations for the Soviet victory over Germany in World War Two on May 9.
"About 20 state leaders have confirmed their attendance, and the North Korean leader is among them," South Korean Yonhap news agency reported, quoting a written reply from the office of Vladimir Putin's spokesman Dmitry Peskov.
The visit, if confirmed, would be Kim's first official trip abroad as head of state and is to see the youthful dictator huddling with Putin, while thousands of Russian soldiers march through Moscow's Red Square for the traditional military parade.
Yonhap however said the Kremlin did not mention Kim Jong-un by name, leaving the door open for another high official to attend in his place.
It is possible that Pyongyang will send its nominal head of state, Kim Yong-nam - the president of the Presidium of the North Korean Supreme People's Assembly, South Korean officials said.
"When you refer to North Korea's leader, it's ambiguous at times, Under the North's Constitution, Kim Yong-nam represents the country in external relations," a unification ministry official told the news agency.
Russia and North Korea share a short 17-km (10.5 miles) border and have been working to improve relations in recent months.
Moscow has been increasingly looking to boost its diplomatic presence in Asia, as relations with European country have grown sour over Ukraine, while Pyongyang has been looking to diversify its portfolio of allies following a chilling in relations with its main partner, China.