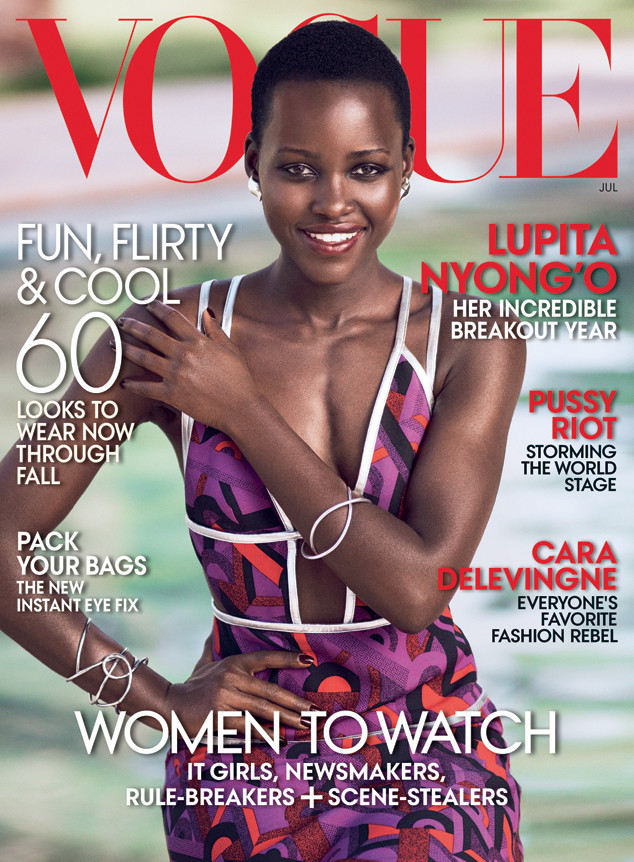 It's looking like 2014 could be Lupita Nyong'o's year!
Just months after taking home the Best Supporting Actress Oscar for her breakthrough role in 12 Years a Slave, the Hollywood star has bagged her very own Vogue cover.
Wearing a plunging print dress, the 31-year-old Kenyan-born beauty looks effortlessly stunning on the July issue of the fashion Bible.
For the editorial spread, she poses up a storm in pieces by designers such as Givenchy, Prada and T by Alexander Wang.
One image shows her laying on an exercise ball wearing wine heels and an orange mini-dress. Her arm is drapped in silver bangles. She gives Kim Kardashian, who covered the publication in April with husband Kanye West, a run for her money.
In the accompanying interview Nyong'o opens up about catapulting to fame and admits that she is still uncomfortable about being in the spotlight.
"It just feels like the entertainment industry exploded into my life," Nyong'o says.
"People who seemed so distant all of a sudden were right in front of me and recognising me—before I recognised them!"
"Even in my dreams of being an actor, my dream was not in the celebrity. My dream was in the work that I wanted to do."
With her eagerly anticipated appearance in Star Wars: Episode VII and a few other projects in the pipeline, Nyong'o says she is grateful for the doors that 12 Years a Slave has opened for her.
"It's a wonderful opportunity to be working in these fantastical realms," she says of director J.J. Abrams' upcoming movie. "They're worlds away from 12 Years a Slave, that's for sure—but that kind of diversity is what dreams are made of."
In April, after being crowned People magazine's Most Beautiful woman she admitted, Nyong'o admitted that she hadn't always been proud of her looks and explained that growing up she thought the definition of beauty was "light skin and flowing, straight hair".
"[My mother] always said I was beautiful. And I finally believed her at some point."