Key Features:
Heavily customised version of Android
7in screen with 1280 x 800 resolution (216ppi)
1.2GHz dual-core processor
Dolby audio, stereo speakers
Access to Kindle music, books, apps and LoveFilm
Price as reviewed: £159
Introduction
With the Kindle Fire HD, Amazon is looking to repeat the huge success it has had with its Kindle range of ereaders. By selling the device at cost (or even below cost) price, Amazon is hoping to attract a huge user base and make its money back on content purchased from Amazon's online stores.
The Kindle Fire HD is very much a content consumption device which runs a version of Android which looks nothing like that seen on almost every other Android tablet.
Amazon is hoping a great screen, nice design and easy access to apps, books, music, film and TV will attract customers in their millions, but this tied-down ecosystem could put people off as much as attract them.
Kindle Fire HD: Design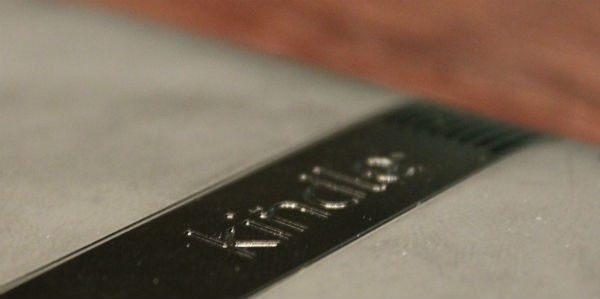 The Kindle Fire HD is a really nicely-designed tablet. It is compact, having an almost identical footprint to the iPad mini, though at 10.3mm it is chunkier, though I can't say I noticed all that much.
The front is covered in a single layer of toughened Gorilla Glass with the soft touch rear coming around the edges to meet the glass front and protect the sides. I should note that like most tablets, the glass front is incredibly good at attracting fingerprints.
The back is covered in black soft-touch plastic with a simple dark black metal band cutting across the back panel. This is to show where the speakers are positioned and works well as a point of contrast.
The only issue I had with the design was the screen lock and volume buttons, which are integrated into the side of the tablet. They are so well integrated that at times it is hard to locate them, and with no physical buttons on the front to help you orientate the tablet, this can be a pain at times - especially in the dark.
The Kindle Fire HD can comfortably be held in one hand, either in landscape or portrait mode, and even after extended reading sessions I didn't notice the 395g weight being a problem.
By its very nature a 7in tablet needs to feel solid. It's something which will be thrown into backpacks, left on the couch and pawed mercilessly by younger hands, and the Kindle Fire HD managed to hold up well throughout my time with it.
It is not as premium feeling as the iPad mini, but at £110 less, you wouldn't expect it to be.
Kindle Fire HD: Screen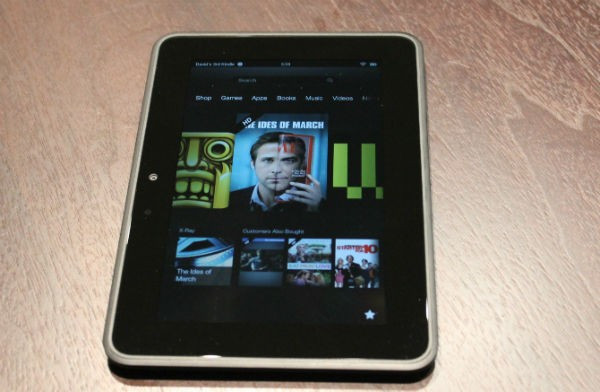 Since Apple announced the iPad mini, Amazon has been crowing about the higher resolution of its Kindle Fire HD screen, and with very good reason. Holding both side-by-side it is clear to see the Amazon tablet has a much higher resolution and everything looks a lot sharper.
At 1280 x 800, the Kindle Fire HD's screen is a beauty. Watching HD films and TV, reading books or surfing the web all looks great. The pixel density of 216 pixels per inch means that text looks razor sharp and this is particularly noticable when reading ebooks.
Amazon is also playing up the reflection reduction of its screen. Most tablet screens are made up of two layers, an LCD on the bottom and a touch sensor on the top, separated by an air gap.
This gap allows light to filter through the touch layer and reflect off the LCD, but Amazon has removed this airgap by laminating the touch sensor onto the LCD, similar to Apple's in-cell technology seen recently in the iPhone 5.
And while glare does seem to have been reduced somewhat, a bigger benefit I found was with the responsiveness of the screen. Eliminating the air gap makes it feel as if you are closer to the screen and makes for a very fluid, smooth swiping experience.
Kindle Fire HD: Performance
No matter how good a screen is, if the tablet's processor can't handle the job then it's all for nothing.
The Kindle Fire HD comes with a 1.2GHz dual-core processor paired with an Imagination PowerVR 3D graphics core and 1GB of RAM. For the most part, this combination handles anything you throw at it, though switching between apps and opening and closing books or films was less than smooth.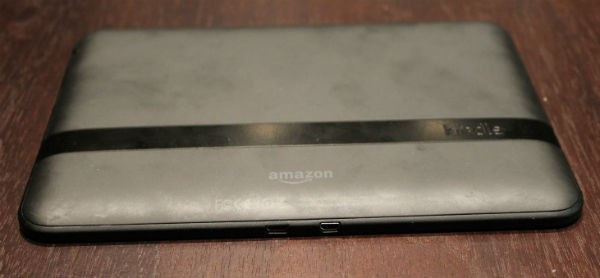 I imagine a lot of that is down to the fact Amazon has essentially built its own operating system and still has some bugs to iron out.
HD movie playback was excellent, and considering you can only watch movies if you are streaming them from LoveFilm, this was a key requirement.
The Kindle Fire HD comes only with Wi-Fi, with no 3G version available at the moment. However Amazon is playing up its dual antenna Wi-Fi, saying it is the fastest on any tablet.
Multiple in/Multiple out (MIMO) technology allows for reception or transmission over both antenna simultaneously in order to increase capacity and reliability.
It's hard to know just how much better this technology makes your Wi-Fi connection, but I certainly found that picking up and connecting to Wi-Fi networks, particularly saves ones, was quick and without any issues.
The Kindle Fire HD also comes with stereo speakers and Dolby Audio which promises to create virtual surround sound. Surround sound is stretching things a tad but I certainly found that the speakers on he Fire HD were superior to those on any other tablet I've listened to.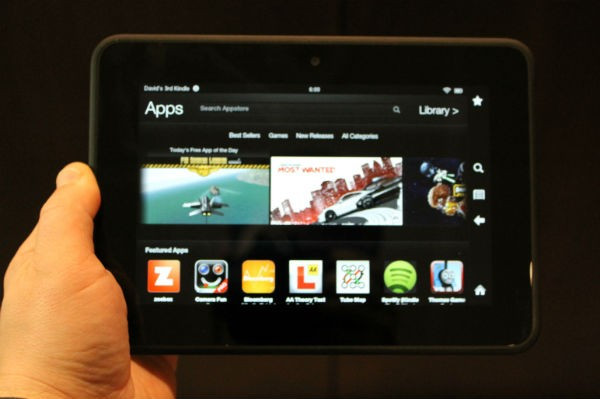 They are powerful, loud and deliver crisp, clear audio, particularly of dialogue when watching a film. Then again, most of the time users will be using headphones when using a tablet, so for most people the excellence of a tablet's speakers will be a moot point.
As with most tablets these days, battery life is great. On a full charge we managed to get just over eight hours of use (reading books, watching films, playing games and browsing the web) with the screen at 75 percent brightness.
Kindle Fire HD: Software/Interface
Google's Android is an open source piece of software and therefore those using it can do pretty much anything they want with it.
Amazon has done much more than most and created a version of Android which is so completely different from Google's typical interface as to be unrecognisable.
What Amazon has done is to create an interface which surfaces content and lets you quickly navigate between your most recently used apps, books, TV, music or films.
The main interface consists of a central carousel of your content, with the most recent content at the front. Above this sits a static navigation bar, giving one touch access to search, shop, games, apps, books, music, videos, newsstand, web, photos, document and offers.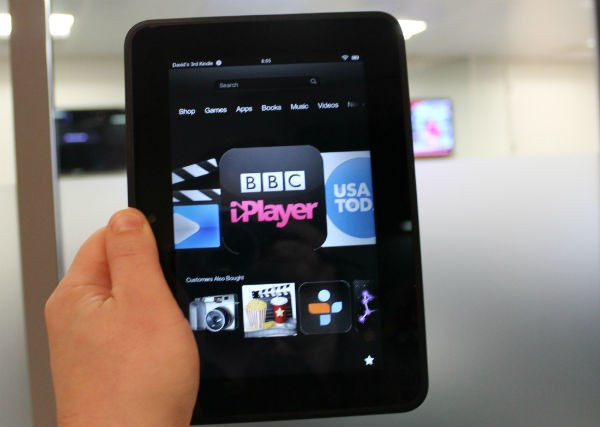 When held in portrait mode, along the bottom of the screen appears a "Customers Also Bought" section, highlighting content similar to the app, game, book etc which is currently displayed on the central carousel.
It takes a bit of getting used to, especially you are used to using a traditional Android interface.
Amazon's interface is certainly not slick. It feels a bit jerky and lacks cohesion. You rely on context-sensitive on-screen navigation buttons to get out of apps, go back and go to your favourites.
It works, but just doesn't feel as smooth as it could have - given how much Amazon has simplified the interface. Gestures and/or swiping actions could have been used more in my opinion, to make navigation easier and more intuitive.
One final point, the £159 version of the Kindle Fire HD comes with what Amazon calls Special Offers. all this means is that when you turn on your Kindle Fire HD, you are met with an ad in the lock screen. If you don't want to see this add you can pay an extra £10 to turn it off.
Kindle Fire HD: Music, books, apps and films
Music - Amazon's music store is available in the UK and contains a sizeable library of content and is priced competitively when compared to Google Music and iTunes.
When you buy an album from Amazon, it is stored in the cloud and you can then choose to download them to up to ten devices (including of course your Kindle Fire HD). Amazon also lets you upload your music catalogue to the cloud (up to 20,000 songs) for free, letting you access it everywhere - again services also offered by Google and Apple.
Books - Amazon has built is Kindle brand on a huge catalogue of ebooks and so this is one of the main selling points of the Kindle Fire HD. The breadth of content available is unbeatable, and of course any books you may have bought previously on one of Amazon's Kindle devices will automatically show up here.
Reading on a tablet is not ideal, but I have to say using the Kindle Fire HD as my main ereader for a week has not been the problem I thought it would be. Text is super sharp on the screen and one-handed use is no problem.
You can tone down the screen brightness to make it easier on your eyes, and I can see some people ditching the ereader altogether in favour of a Kindle Fire HD.
Apps - Amazon has its own curated Appstore which features games and apps from the wider Android catalogue.
While it is nowhere near as comprehensive as the Google Play store, all the main apps are present and correct, such as Twitter, Facebook, Angry Birds etc. What you don't get are any of Google's own apps, such as Maps, Gmail, Drive or Calendar.
Amazon does have its own email and contacts apps preloaded and they work well enough, though I was unable to get my Gmail account synced with the email app, despite numerous attempts. The issue had to do with the two-step verification setting I have enabled on my Gmail account, though some users have managed to get it working according to some online forums.
Videos - This I'm afraid is where my biggest problem lies with the Kindle Fire HD. There is simply no straight-forward way of watching videos on the tablet if you are without a Wi-Fi connection.
In the UK, all video content is accessed through LoveFilm (which is owned by Amazon), and you get one month's subscription included with a new Kindle Fire HD.
While we found the quality of the video playback to be decent and the HD content in particular looked great on the tablet's screen, there is a serious lack of content available. While there are a lot of films and TV series available on the service, there are huge gaps in its catalogue, particularly when it comes to more recent releases.
But a lack of content is not even the biggest problem. The biggest problem is that there is no option to download for offline watching, and no option to purchase or rent recent releases. This means you cannot download any video content to your Kindle Fire HD.
Also, the Amazon tablet does not support mainstream movie file formats like .avi and .mov, which means you can't even transfer your own videos you may have stored on a hard disk to the tablet.
Amazon will only allow you playback MP4 files, meaning that most people simply will not be able to watch any video content on their Kindle Fire HD unless they have a Wi-Fi connection. There is a fiddly workaround available if you really want to, but it should not be this hard.
For most people this means no videos on long-haul flights or long road trips - in other words the places where the Kindle Fire HD will be used most.
It seems like such a backwards move by Amazon and one I simply cannot fathom.
Kindle Fire HD: Value and competition
Considering the excellence of the screen and the level of build quality and design, the £159 price point (for the 16GB version) is undoubtedly a steal. However, there are some caveats you need to take into consideration when deciding if the Kindle Fire HD is for you.
The first is that you are will be tied into the Amazon ecosystem and secondly in the UK at least, this means no film purchases or rentals, and a limited range of apps.
Looking at the competition, Google's Nexus 7 features an identical screen resolution and is as good as Amazon's offering. You also get full access to Google Play and adding videos is a breeze - whether you are buying them from Google or transferring them from your PC.
And remember you can still access the Kindle books app on the Nexus 7.
Finally in the 7in tablet market we have the iPad mini. Eschewing the budget pricing of the Kindle Fire HD and the Nexus 7, Apple's is hoping people will pay the £110 premium for its superior build quality and better app ecosystem.
However, the iPad mini has a noticeably poorer screen than the Kindle Fire HD and the Nexus 7, which could be a deal breaker for many.
Kindle Fire HD: Verdict
On the face of it, the Kindle Fire HD should be a runaway success. A superb screen, great design and build quality, and access to books, music, magazines, newspapers and videos at the touch of a button. And all for just £159.
However, the problem of getting video content onto your Kindle Fire HD, along with a user interface that feels unfinished means the decision is not as straight forward as it should be.
I really wanted the Kindle Fire to be great. And in some respects it is, but Amazon has shot itself in the foot with the LoveFilm tie-in, making it almost impossible for people to watch videos offline on the tablet.
And for a meida-focused tablet like the Kindle Fire that is an almost unforgiveable mistake.
Scores:
Overall 7/10
Screen 10/10
Design 9/10
Performance 8/10
Value 8/10
Software 7/10
The Good
Superb screen
Great design and build quality
Excellent battery life
The Bad
No offline videos
Unfinished UI
Limited app store content