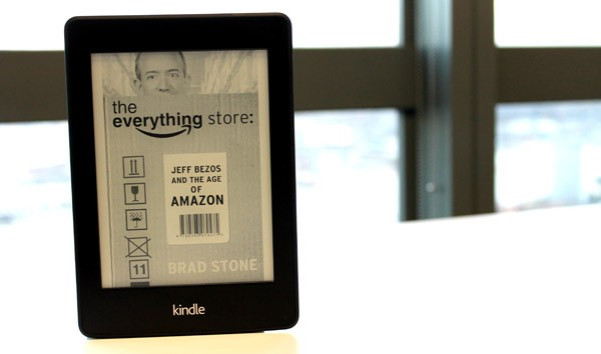 Key Features:
Kindle Paperwhite 2013 Review
I decided that the best way to review 2013's Kindle Paperwhite would be to read the new book about Amazon and its CEO Jeff Bezos by Brad Stone.
The Everything Store: Jeff Bezos and the Age of Amazon is an insightful look at a company and what shone through was Bezos' unquenchable drive and willingness to give his customers instant access to Amazon's 'stuff'.
Nowhere is this seen more clearly seen than the Kindle, a device which puts millions of books at your fingertips within seconds.
The Kindle has gone through a number of revisions since it first emerged in 2007, costing a whopping $399 and featuring a pretty ugly design - including a full QWERTY keyboard.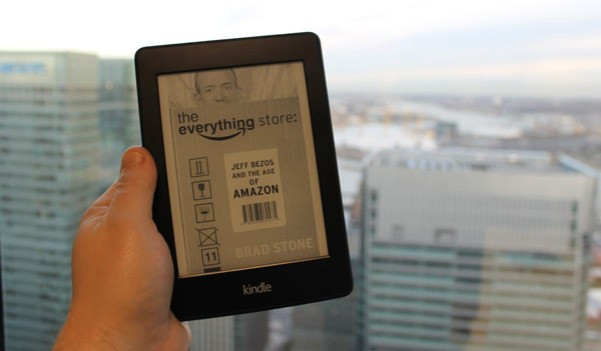 Over the last six years the ereader has been scaled-back in physical terms, while adding touchscreens, a built-in reading light and features like X-Ray for searching your ebooks.
This reached its pinnacle in 2012 with the original Kindle Paperwhite, and it seems as if Amazon and the ereader industry in general has run out of ideas for improving the platform.
Though this is not necessarily a bad thing. Books have been around for centuries without much change, and they are still surviving (just).
Kindle Paperwhite: Design
So Amazon tells me that the 2013 Kindle Paperwhite is a whopping 7g lighter than last year's model (206g vs 213g), but without being told I don't think I would have noticed the difference.
The only other design change is the presence of the Amazon logo on the rear in place of the Kindle logo which was there last year.

Otherwise this is very much more of the same. Matte black plastic (ever so slightly darker than last year to improve contrast I expect) and a slim, narrow design uncluttered by buttons or indulgent flourishes means this is still the best-looking ereader, letting you focus on what's important - the screen.
Kindle Paperwhite: Screen
The screen is arguably where Amazon has put in the most effort.
The screen's resolution is identical (758 x 1024) to last year, but new display technology means higher contrast and better reflectivity. It is noticeable when you put this year's model side-by-side with last year's model, but I'm not sure it alone is worth upgrading.
Amazon has also made the touch technology better - with "a 19% tighter touch grid" - meaning your prodding and swiping is more responsive. Add to this a processor which is 25% faster and the overall experience is slicker than last year, but again, I'm not sure it's enough for anyone to upgrade.
Kindle Paperwhite: Light
Amazon has also updated the built-in reading light.
The company says it spent two years perfecting the technology before launching it last year, flattening out a fibre optic cable into a sheet, using "nanoimprinting" to ensure perfectly even distribution of light.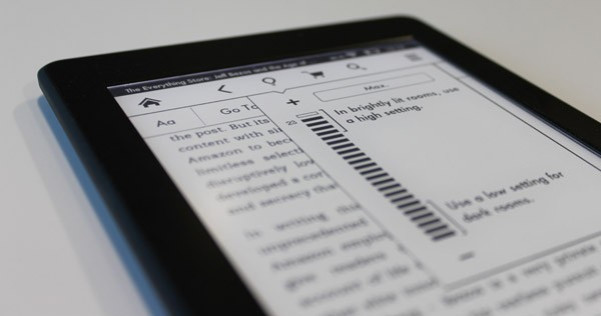 The new light is meant to help improve in guiding the light to the surface of the display, and again the improvement is clear, with the lighting much more even than last year's model.
The intensity of the light is again controlled by an on-screen slider and can be accessed from everywhere with a single tap.
Kindle Paperwhite: Interface
Bezos' aim back in the late 1990s, when the idea of an ereader was first mooted, was to put every book at your fingertips - instantly.
And to a greater or lesser degree he has done that. Amazon's catalogue of books is available to download with a single click (another key Bezos principle) through the Amazon Store on your Kindle.
The interface hasn't changed much, with the home screen giving you an overview of the books on your ereader (or those you have purchased but not downloaded) as well as recommendations - personally and carefully selected for you by Amazon's algorithm engines.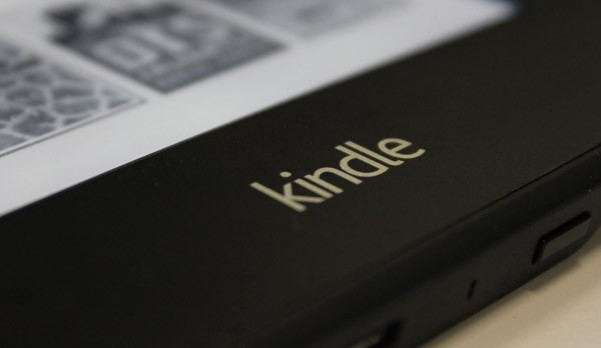 The store is still not the easiest thing to use on an ereader, but if you know what book you are looking for, rather than simply browsing, then it is fine.
Kindle Paperwhite: Reading
Reading on a Kindle Paperwhite is brilliant, whether it's on the train to work in the morning, a sunny beach or in the middle of the night in the pitch black of your bedroom.
While I did experience some eye-strain when reading in particularly dark environments, this was after several hours of reading and I guess has to be expected.
Downloading and opening books, turning pages and navigating the system was all snappy and happened without delay. There is still a brief flash as the page refreshes, but it is much less noticeable on the new Paperwhite than previous generations.
Amazon has added a couple of new features in this year's model with the most interesting being Smart Lookup. This brings together a number of features already available (such as the dictionary and X-Ray feature) into a single easy-to-use interface.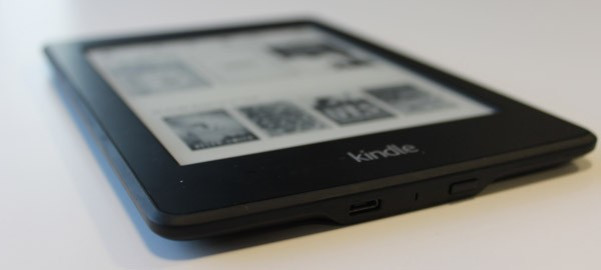 You will need an internet connection to get the Wikipedia content, but I find that the dictionary and X-Ray features are the ones I use most often on a Kindle.
The other big new feature is called Vocabulary Builder, which collects all the words you look up while reading and lets you see them all in one place, to give yourself a quick reminder of what they mean - and once you have them mastered you can remove them from the list.
Kindle Paperwhite: Value and Verdict
At £109, the price of the Kindle Paperwhite has not increased since 2012, but considering the range of improvements Amazon has made (iterative though they may be), this is even better value for money than last year.
Yes Amazon will claw back all that profitability by tying you into their eco-system, but for most people this is a fair swap.
If you bought the original Paperwhite and are thinking of upgrading, then I couldn't recommend it. There is nothing new in the 2013 model which makes it a must-buy for me.
Amazon's Kindle Paperwhite is the best ereader in the world, and with rivals not able to beat Amazon on price, design or features there is no reason to consider any other options.
Scores:
Design 9/10 - Slightly 'industrial' but simple, sleek elegance with a slight weight loss since last year
Value 9/10 - At £109 it's £40 more expensive than a regular Kindle, but it's worth it
Screen 9/10 - Amazon has improved the contrast and the evenness of the light making this a great screen to read on
Build Quality 10/10 - Strong, with little to no flex or wobble
Overall 10/10

- The best ereader on the market - it's that simple
The Good
The Bad
Tied to Amazon eco-system