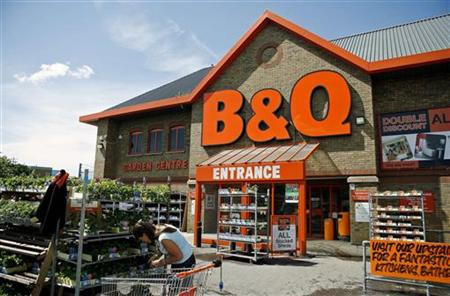 Kingfisher, the DIY retailer, posted today improving margins in Q1 on a cost savings programme and store downsize in China.
The international company, whose shares trade on the FTSE 100, rose on the news with the consensus market view a 'buy' on the results which showed a good sales performance in what is a traditionally tough quarter with sales picking up as the year goes on.
In the International store group, the company said that it had sublet over 80 pct of its surplus store space arising from its downsizing whilst a 'later Chinese New Year' and increased activity in the housing market helped stimulate demand for home decorating - sales were down but losses reduced in what is a difficult market for the group.
In UK, where non-food retail sales have been rising according to the Office of National Statistics, their B&Q brand faired much better.
Total sales were down 2.8 per cent like-for-like, but sales of higher margin products meant that overall profit came in up 12 pct and this pattern was repeated around the group.
Ian Cheshire, Chief Executive of Kingfisher, said, "We have continued to deliver solid profit growth in a tough first quarter during which our customers were impacted by adverse weather conditions across Europe and ongoing economic uncertainty.
"Sales were disrupted at the start of the quarter by heavy snow, and the prolonged cold weather also delayed the start to the outdoor spring season, contrasting with favourable conditions the previous year. However, our self-help initiatives helped us deliver flat sales whilst improving gross margin and cost productivity with the result that profit grew 12%.
"Whilst this is a good start to the year, our first quarter is typically one of the least significant contributors to annual profit and so there is much still to do this year. The headwinds we anticipated at the start of the year look set to continue, but we are in good shape and well prepared."
In total, the B&Q owner made profits of 146 million pounds (up 14.5 pct on last year) and is on track to meet Goldman Sachs forecasts for the year.
Goldman, who believe further upside to Kingfisher in cash returns - net cash at the group was £86 million compared with a net debt last year - see improvements in margins, especially China coming quicker than expected.
The investment bank and securities firm put a 12 month target price of 309p and upgraded them to a 'buy' rating since 4th May.
By 09:38 shares in Kingfisher were up 2.23 per cent on the FTSE 100 to 228.80 pence per share.