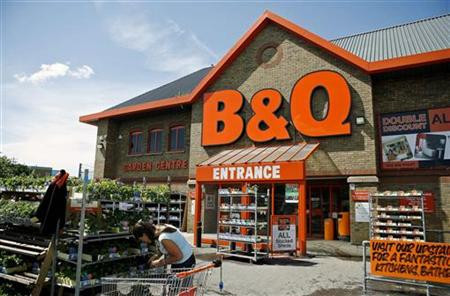 Shares in Kingfisher rose over two per cent on the FTSE 100 after the company reported a rise in profit of 12 per cent in the 13 week period ended 1 May 2010.
During the period retail profit rose to £146 million, despite total retail sales being flat at £2.6 billion thanks to poor weather across Europe. On a like for like basis sales were down 1.8 per cent.
Net cash at the end of the period was £86 million, an improvement from the net debt of £250 million reported at 30 January.
In Britain Kingfisher saw its total sales decline 2.0 per cent to £1.16 billion, a fall of 2.8 per cent on a like for like basis. Despite this retail profit increased 13.2 per cent thanks to cost initiatives.
In France the group saw a rise in total sales of 2.2 per cent to £1.1 billion, an increase of 0.2 per cent on a like for like basis. Kingfisher's retail profit in France increased 17.0 per cent to £60 million.
Ian Cheshire, Chief Executive of Kingfisher, said, "We have continued to deliver solid profit growth in a tough first quarter during which our customers were impacted by adverse weather conditions across Europe and ongoing economic uncertainty.
"Sales were disrupted at the start of the quarter by heavy snow, and the prolonged cold weather also delayed the start to the outdoor spring season, contrasting with favourable conditions the previous year. However, our self-help initiatives helped us deliver flat sales whilst improving gross margin and cost productivity with the result that profit grew 12%.
"Whilst this is a good start to the year, our first quarter is typically one of the least significant contributors to annual profit and so there is much still to do this year. The headwinds we anticipated at the start of the year look set to continue, but we are in good shape and well prepared."
Richard Hunter, Head of UK Equities at Hargreaves Lansdown Stockbrokers, commented, "Given the various headwinds facing the group, the update has revealed a very creditable performance.
"Both the earlier adverse weather conditions and tough comparatives conspired to set the bar high for Kingfisher. In addition, this first quarter is a traditionally less profitable period, with sales picking up as the year progresses. Nonetheless, there are a number of factors which have pleased investors, most notably the continued focus on cost reduction and margin improvement. Lower losses in China have also contributed to a brighter outlook, whilst overall Group retail profit showed an increase in excess of 14%.
"The group's geographical diversification still provides attractions, whilst very vague speculation of the possibility of Kingfisher as a takeover target persists. The elimination of net debt and a progressive dividend policy continue to underpin the shares, whilst the remainder of the year should provide opportunities, despite management's understandably guarded outlook. The shares have managed to post a gain of 1% over the last three months, during which time the wider FTSE100 has given up 5%, and the general market view remains that the shares are a buy."
By 08:29 shares in Kingfisher were up 2.45 per cent on the FTSE 100 to 228.40 pence per share.