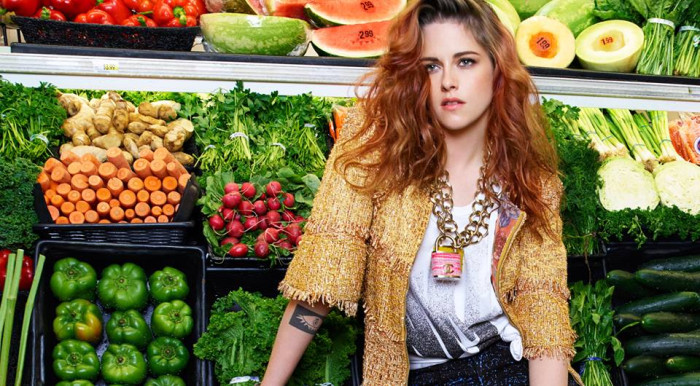 The Twlight star featured in a fashion shoot inside a supermarket for the September issue of the Elle fashion magazine.
Kristen Stewart revealed her strong dislike for the paparazzi and the reason behind her unsmiling expressions on the red carpet.
The 24-year-old star said that she believes that no matter what she does with her facial expressions people would complain about her.
She explained, "Now I feel like if I smiled for a paparazzi photo - not that I ever would - that's exactly what people would be desecrating me for," reported US Weekly.
Robert Pattinson's ex-girlfriend continued, "They'd be like, 'now you're going to give it up, now you're a sellout.' Like, okay. What do you want? What would you like?"
For her cover in Elle, the On the Road star posed inside of the Fields Market in West Hills, California where she gave killer looks to the camera while standing in front of farm produce and canned goods.
During her interview with the magazine, Stewart recalled the first time she realised that she was famous. The former child star became an instant celebrity following the release of the first Twilight film in 2008.
Reflecting on the moment she said, "The day the movie came out there was a picture of me - in the New York Post."
She continued, "I was sitting on my front porch, smoking a pipe with my ex-boyfriend [Michael Angarano] and dog. And I was like, 'Oh s**t, well, I have to be aware of that.'"
Stewart also revealed that she does not have a great master plan for her currently successful acting career.
She explained, "Never at any point have I sat down and plotted how I should proceed from here on."
She confessed, "As soon as you start thinking about your career as a trajectory - like, as if you're going to miss out on some wave or momentum - then you're never doing anything for yourself anyway.
"Then you're truly, actually, specifically working for the public. You're turning yourself into a bag of chips."
You can pick up the September issue of Kristen Stewart's Elle when it hits newsstands in August.