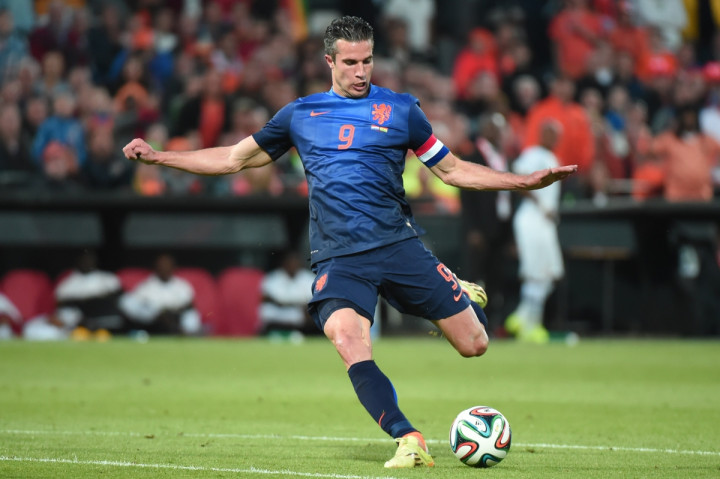 Netherlands captain Robin van Persie is in danger of losing the backing of his teammates following their win against Kazakhstan in their Euro 2016 qualifier match on Friday.
The Manchester United star was criticised following his decision to take a shot from tight angle rather than pass the ball to striker partner Klass-Jan Huntelaar, who was in a much better position and could have had an easy tap in.
The incident took place when the Dutch were 1-0 down to the Kazakhs and were struggling to find their way back into the team. The World Cup semi-finalists eventually went on to win the game 3-1 following goals from Huntelaar, Ibrahim Affelay and van Persie.
But the Dutchman [van Persie] has dismissed the criticism and believes that he had every right to shoot and that the Schalke strikers reactions are a bit 'exaggerated'.
"In that position I was right to shoot. The reaction from Huntelaar was a bit exaggerated. Anyway, it's normal. He wants to score and that's what we all want," van Persie said, as quoted by Goal.
Huntelaar, who later did score the goal that leveled the game, felt that he should have got the pass from his striker partner and admitted that he was focused on scoring the goal.
"If that ball had come to me, I could have ran it in to the goal. I was focussed on that chance and wanted to score as soon as possible," Huntelaar told Goal.
However, he brushed off the incident and maintained that the most important thing was that Netherlands won the game.
"If you must have the ball, you might get upset sometimes. That happens in a game. But we've won. That's most important."
Former Holland captain Mark van Bommel believes that van Persie should solve such minor problems in the dressing room. But believes the Netherlands captain's actions are being exaggerated and also backs the former Arsenal player's decision to take the shot rather than pass.
"Van Persie is the captain, he should solve these problems in the dressing room," van Bommel said.
"It's not good what Robin does but we must not exaggerate. From that corner, Van Persie should just shoot on target," the former Bayern Munich midfielder explained.