Key Features:
Nvidia Tegra 4 processor with 2GB RAM
Kobo Arc 10HD
Toronto-based company Kobo sort of popped out of nowhere in 2011, winning a massive deal with British retailer WHSmith to sell Kobo Wireless and Kobo Touch ereaders in store and online together with WHSmith's impressive 2.2 million digital book catalogue.
Kobo's ereaders have done pretty well for WHSmith so it's not surprising that Kobo is now looking to go down the Amazon route with high-definition Android-based tablets that can be used as larger, premium ereaders or as a multi-purpose entertainment device.
A year after entering the tablet market, and now with two tablets now under its belt, Kobo is targeting the mid-range market with the Kobo Arc HD range.
With a price positioning just below Amazon's Kindle Fire HDX 8.9in tablet and significantly less than the premium iPad Air, how does the Kobo Arc 10HD match up?
Kobo Arc 10HD: Design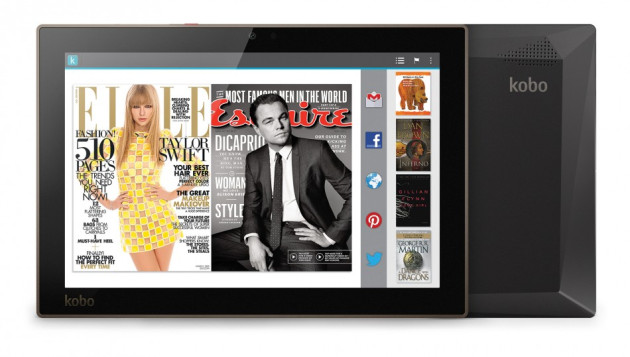 The Kobo Arc 10HD has quite a polished, sleek slate-like screen with a smooth black bezel back.
Weighing 627g with a thickness of 9.9mm, the Kobo Arc 10HD is 25% heavier than the iPad Air and almost twice as heavy as the Kindle Fire HDX 8.9in tablet - making it quite heavy to hold for prolonged periods in one hand.
Like the rest of the Arc range, the Kobo Arc 10HD features a big red on/off switch on the top edge of the tablet. On the left edge sits the headphone jack, microUSB and microHDMI ports, while the volume rocker sits on the right edge of the device.
This is all very typical, but in some cases if you are using the tablet in portrait mode, you do find you will inadvertently press the volume rocker without meaning to - though this is admittedly in limited situaitons.
Kobo Arc 10HD: Screen
The 10.1in Kobo Arc 10HD might not have the pixel density of Apple's Retina display, but considering the price, it does come with a surprisingly high resolution screen (2560 x 1600 pixels) display, with a pixel density of 300ppi.
The only iPad to currently have a pixel density higher than this is the new iPad mini (326ppi), and none of the full-sized iPads have as high a resolution.
However the Kindle Fire HDX 8.9in tablet, which has the exact same resolution at the Kobo Arc 10HD, is the overall winner with a pixel density of 339 ppi.
It should be noted though that all screens are of such high resolution it is hard to tell the difference between them based purely on resolution.
Reading ebooks or magazines is a great experience as the colours are bright and accurate, so images have a near-perfect depth of colour.
Games also display beautifully and are brightly lit, but when it comes to video content, the glossiness of the screen doesn't handle reflections very well, which is quite distracting unless you're watching footage that is very brightly lit.
Kobo Arc 10HD: Connectivity
The tablet supports the Wi-Fi n standard, as well as Bluetooth 4.0. There is also Miracast support for Wi-Fi media streaming.
Kobo Arc 10HD: Software and Performance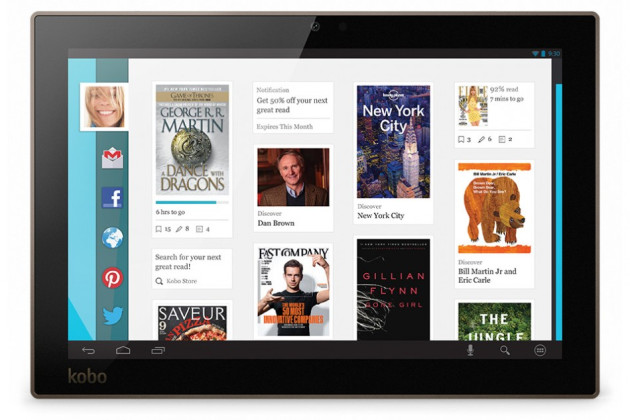 In terms of hardware, the Arc 10HD is equipped with a 1.8GHz Nvidia Tegra 4 processor with 2GB of RAM, has 16GB of storage, of which 12.9GB is usable, though there is no card slot to expand storage.
As for performance, the Kobo Arc 10HD is pretty responsive. Apps load instantly and the multi-tasking works fine without any sign of lag, even when lots of different apps are open.
I found that videos streamed to the tablet played well, with little or no buffering.
Once fully charged, the tablet can last for about six to seven hours, I found, if in constant use with multiple apps on the go.
Software-wise, the tablet runs on Android 4.2.2 (Jelly Bean) and crucially gives you access to the Google Play store - something lacking from the Kindle Fire tablets.
There are still quite a lot of Android apps which have been designed and optimised for smartphones rather than tablets, so it's worth noting that certain apps, for example Facebook, display in a slightly strange way and don't fully utilise the space on the screen.
Kobo has also built its Reading Life interface over Jelly Bean, which I personally find to be quite intuitive.
The interface puts a selection of your favourite books and magazines front and centre as an overlay on the homepage screen, with just five key apps running down the side of the interface for quick access (and you can choose which apps go on the menu).
Kobo Arc 10HD: Value and Verdict
If you compare prices, the Kobo Arc 10HD comes in £99 cheaper at the moment than the iPad Air, but only £29 cheaper than the Amazon Kindle Fire HDX 8.9in tablet with 16GB storage.
The Kobo Arc 10HD is good for reading books and magazines, and not bad for games, but I found the screen to be disappointing when watching videos.
The tablet is also very heavy, which means you'd be more likely to want to prop it up on something when using it.
For a lesser-known tablet manufacturer, the Kobo Arc 10HD is a fairly decent offering that could be improved.
Scores:
The Good
Great performance and battery life
The Bad
Lack of tablet-specific Android apps