Kobo's CEO Michael Serbini believes that keeping readers at the core of Kobo's business will allow it overtake Amazon.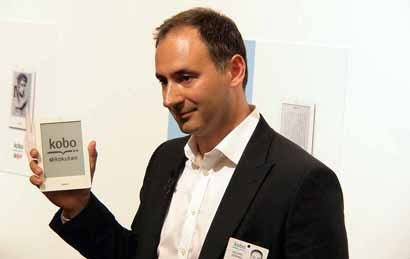 At the London Book Fair in 2012, Kobo confidently informed us that the ebook market was a two horse race - and it was one of the horses. At the time it seemed like a premature comment for a company which had launched in the UK just six months previously.
Sitting in Earl's Court 12 months later with the company's CEO Michael Serbinis, and its clear it knew something the rest of us didn't
Serbinis speaks with a quiet confidence about the company, its customers and its potential to overthrow Amazon as the world's number one digital reading platform.
As the conversation flows from content, publishers, the future and challenges facing the industry, he continually references "the reader" as the key ingredient in the success of the company.
The company partnered with WHSmith and the Booksellers Association in the UK in order "to reach the most passionate readers." It launched its Aura HD ereader in response to feedback it received from tens of thousands of "voracious readers."
Foster a relationship
When asked if the platform or the hardware through which ebooks were read was the most important factor in Kobo's success Serbinis says neither - it is all about the reader.
"Devices will change over time, there is no question. Ultimately the most important thing for us is our customers and building an eco-system for them, which delivers the content they want," Serbinis says.
In order to foster that relationship with it customers, Kobo partners with leading bricks-and-mortar booksellers in each country it launches in, like its deal with WH Smith in the UK.
Connecting directly with what he calls "passionate readers" is key for Serbinis:
"I think it comes down to reach. It's one thing to have great technology and content to offer but through our partners we can reach customers that are care about reading. We've got a pretty important but captive audience."
Kobo currently has 100 shop-in-shop experiences within WH Smith stores and has just announced plans for 100 more opening by the end of this year - giving some indication of the company's plans for expansion.
Behind the curve
It seem paradoxical that a digital platform like Kobo would be cosying-up to traditional booksellers, but Serbinis believes it is vital that these high-street stores remain in place.
"We are not hoping that booksellers go away, we partner with booksellers, we want them to be successful, we want them to maintain relationships with their customers, which endears [us] to publishers."
Speaking of publishers, Kobo's impressive success in such a short period of time can be measured in how long it now takes to strike a deal compared to just a couple of year ago: "The first publisher deal we ever cut took six months, they now happen several times an hour."
In December 2012 Kobo tripled its sales year-on-year, growth no other ebook platform can match. It has 3.4 million titles available globally, growing 2 to 3 percent every week. Kobo has even launched a self-publishing programme called Writing Life, which already has "tens of thousands" of authors and over 100,000 books published in just nine months.
Take on Amazon
Serbinis says that since launching in the UK in October 2011 with a market share of zero, the company now commands around 10 percent of the ebook market in the UK.
It is figures like these which give Serbinis the confidence to say that it can take on and beat Amazon. Why? Because Kobo doesn't sell washing machines:
"From an organisation standpoint at Kobo, this is all we do. Everyone at Kobo, all we focus on is creating a great experience for book-lovers. We don't sell any washing machines, we don't sell radios. We are not focused on the next server farm to offer data services. It is a question of focus.
"Getting something done over there [Amazon] is a little harder than it is for me to get something done because this is all we do, and we believe that this is a big enough market that there is absolute room for a player like us that wants to create an experience for the most passionate book-lovers and particularly one that goes to market through booksellers."
25-year transformation
Taking on and overtaking Amazon will not happen overnight, and Serbinis knows this. For him and for Kobo the transformation from printed paged to completely digital reading is a 25-year project, and Kobo is in it for the long haul.
Looking to the future, the success of the company's self-publishing wing seem to indicate this could be the area to focus on in the coming years.
"We think [self-publishing] is definitely part of the future. Today 10 percent of global sales for Kobo come from self-publishing but when it comes to actual ebooks sold it is higher than that, because generally self-publishing has a lower price point. We think it's a key part of the future, but maybe unlike some of the other players in the market we have publishers as our partners and we want to create win-win partnerships."
Traditional book publishers such as Macmillan, Penguin and Random House will see self-publishing platforms like Kobo's Writing Life and Amazon's Kindle Direct Publishing as a move to eliminate them from the system. However Serbinis believes a lot of publishers use the self-publishing platforms as a way to discover new authors.
"As the publishing world changes, publishers can't put out as many authors as they once did so [self-publishing platforms are] a valuable service in the marketplace - authors certainly recognise that and publishers recognise that."
Untapped potential
Another area of untapped potential for all ebook platforms is children's books. According to Serbinis, 20 percent of book sales in high street retailers come from children's books. On ereaders it's less than one percent.
At the end of last year, a report suggested the ereader market had reached its peak in 2011 and by 2015 sales would have declined by two-thirds. This is clearly not a view held by Serbinis and Kobo.
Serbinis talks of a publishing industry worth $250bn encompassing books, newspapers and magazines all of which are just beginning their move from printed page to digital.
The move towards digital is inescapable. Despite being the CEO of a company promoting and selling ebooks and ereaders, Serbinis says he still clings to the physical form, with nothing replacing the feel of a real book.
However that attachment is linked to growing up with physical books as a child, something which his children's children will never feel, as they will be growing up in a world where they will read nothing but digital.