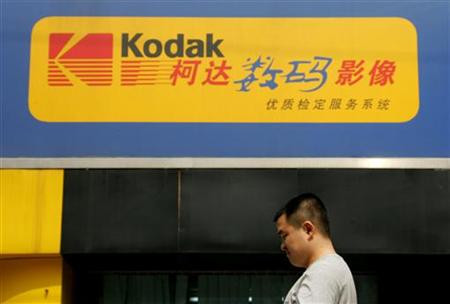 Shares of Eastman Kodak Co. have jumped in value amidst speculation that Google may follow its acquisition of Motorola Mobility with the camera maker's patent portfolio as its next target.
The rise began Wednesday when Kodak saw an impressive 26 per cent increase in its share price value on the New York Stock Exchange.The trend continued Thursday as shares rose a further 16.7 per cent -- trading at $3.14 -- on an otherwise dismal trading day.
The spike in share value has since been attributed to the value of its patent portfolio in the tech industry's ongoing patent accumulation war.
On Monday, Google announced its intention to buy Motorola for $12.5 billon, a 63 per cent mark up on its then trade price.
Google recently lost a bitter battle with other tech giants acquire Nortell's patents, it $3.4 billion bid topped by a combined $4.5 billion offer from Apple, Microsoft and Research in Motion.
Widespread interest in Kodak's patents became apparent on Wednesday when The Wall Street Journal said anonymous sources had revealed that a "strategic buyer in the wireless industry [is] looking to use the patents for defensive protection."
Kodak's patent portfolio is estimated to be worth between $2 to $3 billion. The company has since declined requests to comment on the rapid increase in its share value.