The Samsung Galaxy S3 has been the most popular Android smartphone in 2012 and touted as the Britain's most popular handset, just two days after its launch. The international variant of the Galaxy S3 is powered by the 1.4GHz quad-core processor and ships 1GB of RAM. Samsung has informed The Verge that the Korean LTE Galaxy S3 "includes a quad-core Exynos application processor and an LTE modem chip separately." Reports suggest that the device is likely to bump the thickness up to 9mm, while the existing model measures 8.6mm. It features the same 2100mAh battery.
It is reported that the Korean giant has not revealed the specs of the variant, while both Olleh and Chosun have shown up the same details. The Korean variant of the Galaxy S3 is expected to come with a 4.8in HD display with a resolution of 1280 x 720 pixels and running on Android 4.0.4 ICS. It is expected to come with dimensions of 136.6 x 70.6 x 9.0mm and weighs 138.5g. The spec that makes it stand out from the rest of the variants is its 2GB of RAM, while the other variants have 1GB.
The smartphone is expected to arrive on Korea's SK Telecom in July. There is no word from the company whether the device will make its debut in other parts of the world. Earlier in June, a leaked image surfaced suggesting the specs of the device. The device appears to merge the powerful specs of the two variants that are released around the world. Since the international version comes with a 1.4GHz quad-core Exynos processor and the US variant of the device features 2GB of RAM.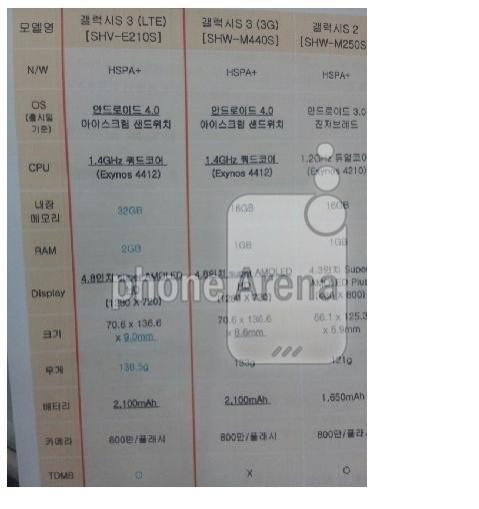 It is also reported that the company has announced that the 3G Galaxy S3 is available in Korea, while the LTE variant is expected to arrive in July. The Korean variant will bump up with an antenna for DMB TV broadcasting, video hub with about 500 titles as well.
The Galaxy S3 variant of Europe and Asia is powered by the quad-core Exynos chipset which was clocked at 1.4GHz processor. On the other hand, the US-bound Galaxy S3 features the dual-core 1.5GHz Snapdragon S4 processor and 2GB of RAM. "Also of note is Voice over LTE support, with all three major carriers planning to roll out the service towards the end of the year," claims The Verge.