Koscielny says he was not aware of direction of ball that led to Arsenal winner
Koscielny scored his second goal of the season against Burnley.
Arsenal defender Laurent Koscielny has revealed that he had no idea about the direction of the ball which led to the winner against Burnley. The Gunners, who were set to share points with the Clarets, saw Koscielny's shot deflect from his boot into his arm, before trickling over the net.
The Frenchman scored his second goal of the season following his brilliant overhead kick against Southampton for the equaliser. The win takes the Gunners back to third, level with Liverpool but ahead on goal difference. Manchester City's loss to Tottenham Hotspur meant that the Gunners have also closed the gap at the top, trailing the leaders by only two points.
There was controversy surrounding the goal, with calls of offside and handball from the Burnley players and supporters. However, the referee let the goal stand, something Koscielny remarked on in his post-match interview. The Premier League will now go into an international break, with the Gunners set to face Swansea City on their return.
"It was a hard game. We tried to score during the game, we didn't and we stayed to push ourselves to win this game and we did. I tried to smash the ball with my foot and after I don't see where the ball is going so I don't know if I touched the ball with my hand. But the ref gave to us the goal and we need to respect the decision," Koscielny told Arsenal's official website.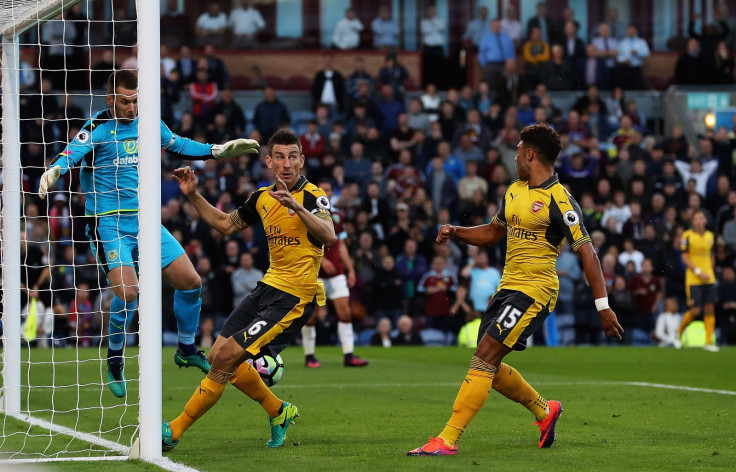 "It's very important to keep our run, we won a lot of games and we wanted to finish before the international break with a win. We did it, so it's important to keep out feet on the floor. We played well against Chelsea, against Basel and we need to keep this form going for the next game," he added.
© Copyright IBTimes 2023. All rights reserved.