Kung Fu Panda 3 Plot Spoilers, Release Date and Cast News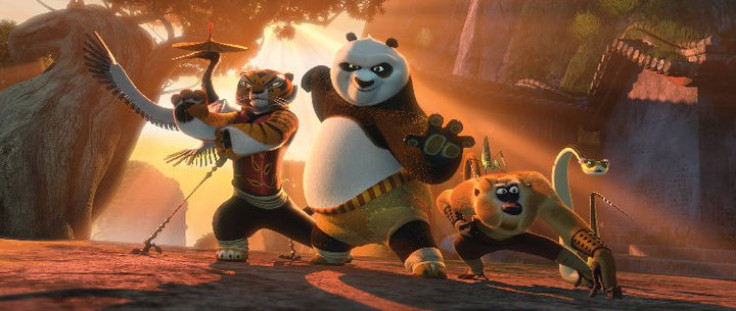 The chubby panda Po is all set to return during the Christmas of 2015 with some power packed kung fu action to entertain his fans who are eagerly waiting for the third instalment of the Kung Fu panda series.
Kung Fu Panda 3, the third instalment of the six-series animation movie, produced by DreamWorks, will be released in theatres on 23 December 2015.
The plot of the movie, as described by the movie's executive producer, will begin with Po and his gang's awesome adventurous journey.
Hallels suspects that Po will have to deal with two huge threats. One will be an extraordinary supernatural force wanting to destroy the Kung Fu spirit while another one will be from near his home.
The villain of the upcoming movie is reportedly the deadliest one of the blockbuster animation movie franchise.
During his struggle to bring peace in the valley Po will gain power from true friendship and faith to destroy the evil spirit.
"All I can say is the bad guy in the third is possibly the most formidable villain in the series" Guillermo Del Toro, the executive producer of Kung Fu Panda 3 told Collider.
Though there is no confirmation about who will play the dreaded villain in the Panda adventure movie, there are reports that Bryan Cranston of Breaking Bad fame will play a key character in the movie.
Meanwhile, Dreamworks Animation has roped in Hannibal and Glee stars Mads Mikkelsen and Rebel Wilson to play major characters in the movie.
Breathcast suspects that Wilson may portray the character of Po's romantic half in the most awaited movie.
The Jennifer Yuh Nelson directed super-hit franchise will have Jack Black playing the fan favourite character Po. Angelina Jolie will reprise her role as the Tigress.
Other cast members Seth Rogen, Lucy Liu, David Cross and Dustin Hoffman will continue to play their characters of Mantis, Viper, Crane and Master Shifu respectively.
© Copyright IBTimes 2023. All rights reserved.