Nineteen-year-old female Kurdish fighter Asia Ramazan Antar has been killed when she reportedly tried to stop an attack by three Islamic State (Isis) suicide car bombers. Antar, dubbed "Kurdish Angelina Jolie" by the Western media for her good looks, had become the poster girl for the Syrian Kurdish Women's Protection Units (YPJ) in the war-ravaged country.
She stopped the cars being driven straight at the Kurdish frontline position, the Times reported on Wednesday (9 September).
"She and her fellows blew up two of them but the last was very close to her when it exploded," Commander Shirin Abdullah, YPJ spokeswoman, said. YPJ is the all-female brigade of the Syrian Kurdish People's Protection Unit (YPG) — both of which are the armed wings of a Kurdish coalition that has taken de facto control over much of Syria's predominantly Kurdish north, Rojava.
Antar, a machine gunner and a feminist, was one among the female Kurdish fighters guarding the village of al-Yashli when the militants launched the attack. She is said to have died immediately when the suicide car bombs exploded.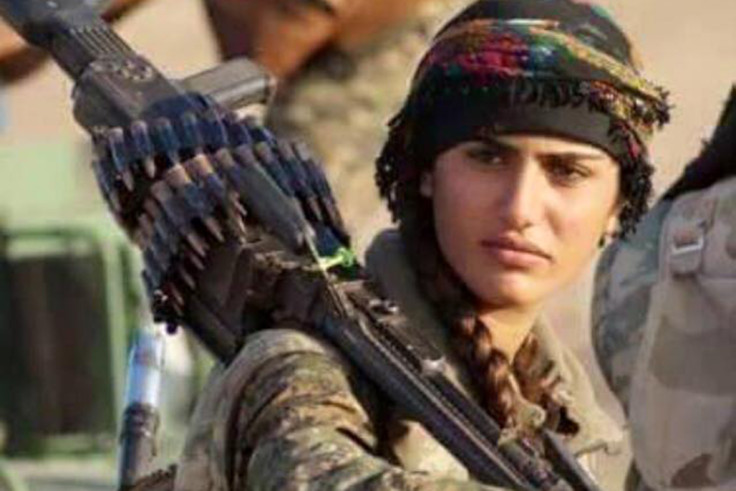 While she became well known for her looks, Antar preferred being compared to Hollywood actress Angelina Jolie for her social work and for being caring towards people and not for her looks, according to Abdullah.
Antar is said to have joined the YPJ forces in 2014 hoping to free Syrian women in her village from patriarchal domination. She was married and divorced within three months of her marriage and had secondary school level education when she joined the YPJ two years ago.
"She always said that her battles against Daesh [Isis] were battles against the ugliness of their views and to build a better life," Abdullah said.
One among 10,000 women fighting the militants as part of the YPJ, Antar was often spotted with a Russian-made PKM machine gun on her shoulder and "she was skilled with it," Abdullah added.
"She always said that the woman has her own cleverness and she doesn't need to copy what the man does."