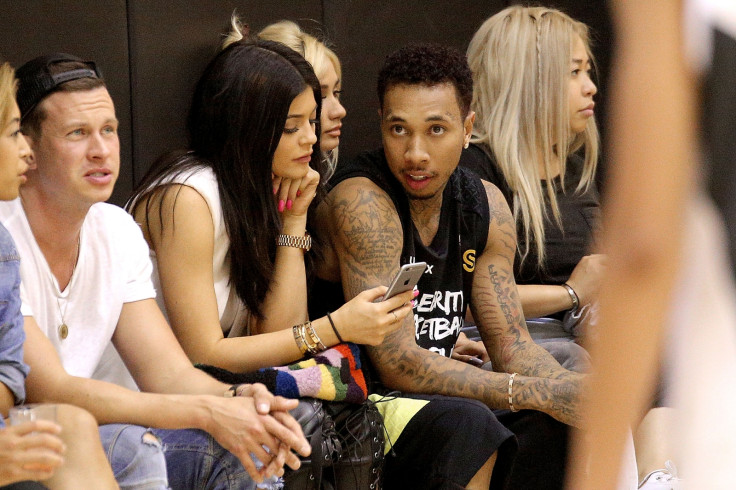 Tyga has provoked fresh controversy after appearing to brag about sleeping with Kylie Jenner. The Young Money rapper announced plans to release his F** Wat They Talkin About mixtape just days after his reality star girlfriend turned 18. And now he has dropped the new project, the lyrics to one particular track – Stimulated – is raising eyebrows.
"They say she young, I shoulda waited/ She a big girl, dawg/When she stimulated," he raps on the song which also includes a lewd reference to "penetration". Although there's no way of knowing for sure that he's definitely referring to Kim Kardashian's half-sister, it's not the first time that his sexually explicit rhymes have been linked to his other half. Back in June, the 25-year-old star, whose real name is Michael Nguyen-Stevenson, was accused of boasting about his exploits with the underage reality star in his track Pleazer.
In the song, he appeared to acknowledge that their alleged romance would be considered statutory rape since she is 17. The age of consent in California is 18. Lyrics include: "About to catch a felony for it. Vagina juice like orange juice in the mornin'."
Although a pal later denied reports that the single was dedicated to his rumoured girlfriend, in July Khloe Kardashian all but confirmed that her half-sister was having a sexual relationship with the hip hop star, who is seven years her senior, when she defended their controversial romance.
"I think at 16 I was probably f***ing someone that was in their 20s, for sure. I wouldn't say I was even dating, probably just sleeping with them. But again Kylie is not a normal 17-year-old," she told Complex magazine.
She added: "You're not gonna say: 'Hey, so what are you doing this weekend?' and have her say: 'Having a slumber party at my girlfriend's,' or 'Going to prom.' That's not what Kylie does. Kylie is taking business meetings and bought her first house, or she's going on a private plane with Karl Lagerfeld to take a meeting. That's not even what people do in their 30s. It's a rare circumstance, so let's treat this as a special case."