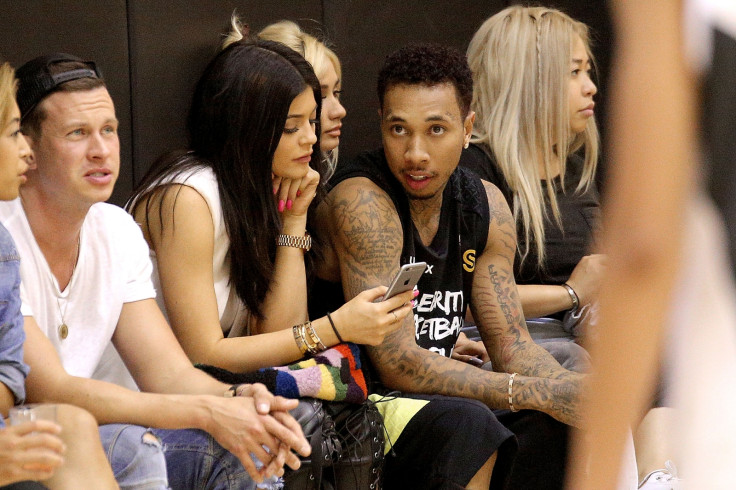 Kanye West has only made a handful of appearances on Keeping Up With The Kardashians but it looks like Kylie Jenner's boyfriend Tyga may soon be making his debut. The Young Money rapper has joined the famous family on their annual holiday and the camera were there to capture the whole thing.
Kim's little sister, who recently turned 18, was pictured picking up her man from St Barts airport and looked pleased to have him with her on the Caribbean island. For the reunion she opted for a grey and white mesh design bikini, ripped denim shorts and a grey cap. The Rack City hitmaker was dressed in a black tank top and pulled up sweatpants.
The controversial couple previously got their blessing from Khloe who defended their age eight -year age difference, telling Complex magazine: "I think at 16 I was probably f***ing someone that was in their 20s, for sure. I wouldn't say I was even dating, probably just sleeping with them. But again Kylie is not a normal 17-year-old."
She added: "You're not gonna say: 'Hey, so what are you doing this weekend?' and have her say: 'Having a slumber party at my girlfriend's,' or 'Going to prom.' That's not what Kylie does. Kylie is taking business meetings and bought her first house, or she's going on a private plane with Karl Lagerfeld to take a meeting. That's not even what people do in their 30s. It's a rare circumstance, so let's treat this as a special case."
In other news, Jenner and her sister Kendall have been busy sharing their holiday album with fans on Instagram. One image showed the siblings posing in front of a bathroom mirror in their bikinis. "We woke up in paradise," Jenner captioned her shot.
Jenner and Tyga, who are said to have started dating in 2014, finally went public with their romance when they were spotted holding hands in Mexico last week celebrating the teen's 18th birthday.
To celebrate her millstone he gave her with a Ferrari sports car in front of her friends and family outside the Bootsy Bellows nightclub in Los Angeles. In footage posted on Instagram, Jenner can be seen holding her face in her hands and then hugging her beau after he hands her the keys to her new Ferrari 458 Italia, which is priced at a whopping $320,000 (£204,000). Her other gifts included a new tanned Birkin tote, although it is not known who gave her the bag.
Scenes from their island retreat will air on forthcoming episodes of the of E! show. Which is in its 10th season.