Kylie Jenner 18th birthday: Tyga treats reality star with $320,000 Ferrari 458 Italia gift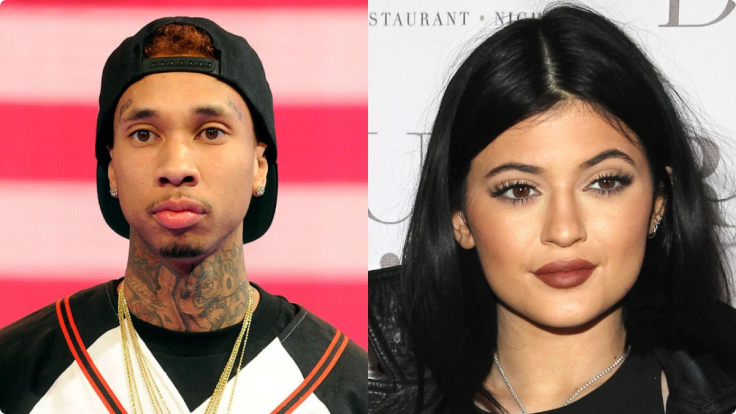 Reality star Kylie Jenner was given an 18th birthday she will not forget thanks to a very generous present from rumoured boyfriend Tyga. The Rack City rapper presented the teenager with a Ferrari sports car in front of her friends and family, leaving her speechless.
In video footage taken outside the Bootsy Bellows nightclub in Los Angeles, Tyga, 25, is seen handing Jenner with the keys to her new Ferrari 458 Italia, which is said to be priced at $320,000 (£206,000), as a group of their friends watch on. The Keeping Up With The Kardashians star is clearly stunned by the kind gesture as she is seen holding her hands to her mouth before hugging one of her pals.
The hip hop star added a personal touch to the sports car with a large red bow decorating the hood. In another photo, Jenner can be seen clutching Tyga's chest in disbelief after receiving the expensive gift, before hopping in and taking her mother Kris Jenner for her first spin.
Earlier in the evening, the TV star was joined by her close friends and family, including sisters Kourtney, Khloe and Kim Kardashian, parent Caitlyn Jenner and brother-in-law Kanye West, to ring in her milestone birthday at The Nice Guy club.
The new Ferrari comes after reports that Tyga had given his girlfriend the Mercedes Benz G-Wagen that was previously owned by his ex-fiancee, Blac Chyna, also the mother of his two-year-old son. However, it was later discovered that the TV star was simply borrowing the vehicle, which now belongs to Tyga, who received the car following his break-up from Chyna.
Jenner, who turns 18 today (10 August), also received another generous present in the days before her birthday, with the E! star sharing a photo of her new tanned Birkin tote, although it is not known who gave her the bag.
© Copyright IBTimes 2023. All rights reserved.