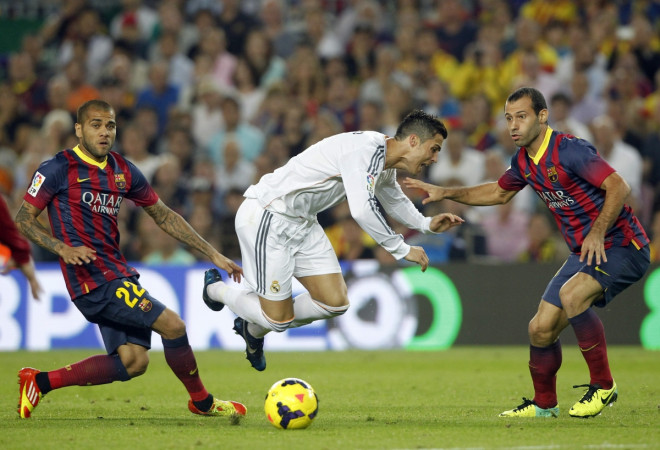 El Clasico's biggest winners appear to be Atletico Madrid, who sit proudly atop the La Liga table with only nine games left.
Altetico are level on points with Real Madrid and one point above the resuscitated Barcelona, who now have 69 points after winning at the Bernabeu.
Pundits in Spain are struggling to remember the last time La Liga came down to a three-horse race - Diego Simeone's Atletico have destroyed the oft-criticised duopoly of the giants from Madrid and Barcelona, an oustanding achievement considering the lack of resources at Los Rojiblancos' disposal.
Indeed there is now a very real chance of a team other than Real or Barca lifting the La Liga title for the first time since Valencia pulled it off 10 years ago.
But Sunday's El Clasico epic will live long in the memory. Lionel Messi's hat-trick helped Barcelona beat 10-man Real with a 4-3 victory in a thrilling match that reignited the Catalans' title challenge.
The match had a little bit of everything: brilliant performances on both sides and lashings of refereeing controversy, with three debatable penalties, a red card and a stamp on the head not given.
Messi was, as so often, the star performer, keeping his side alive when it looked dead and buried, and delivering the final, mortal blow to Real. In the processbecame the all-time top scorer in Clasicos with 21 goals, surpassing Real legend Alfredo Di Stefano. He was individually brilliant and along with Andres Iniesta (who opened the scoring in the 7th minute), delighted the watching world.
Karim Benzema, who netted twice, and Angel Di Maria were great for Real, but expensive summer signings Neymar and Gareth Bale were anonymous. Cristiano Ronaldo lost his personal battle with Messi, despite his perfect penalty.
While all eyes were focused on Sunday's El Clasico, no-one was really paying any attention to Atletico. However, they piled the pressure on the big two with a 2-0 win at 10-man Real Betis – Gabi opened the scoring for the away side just before the hour mark before Diego Costa stabbed home from close range to double his side's advantage on 64 minutes.
If Atletico and Real finish the season level on points, the former will take the title as they have a better head-to-head record thanks to the 2-2 draw at the Vicente Calderon and a 1-0 win at the Bernabeu in September, the only home game Real have not won this term.
Results:
Real Madrid 3-4 Barcelona
Betis 0-2 Atletico Madrid
Valencia 2-1 Villarreal
Osasuna 1-2 Sevilla
Athletic 1-0 Getafe
Valladolid 1-1 Rayo
Espanyol 0-0 Levante
Granada 1-0 Elche
Celta 0-2 Malaga
Almeria - Real Sociedad (Monday-22:00)