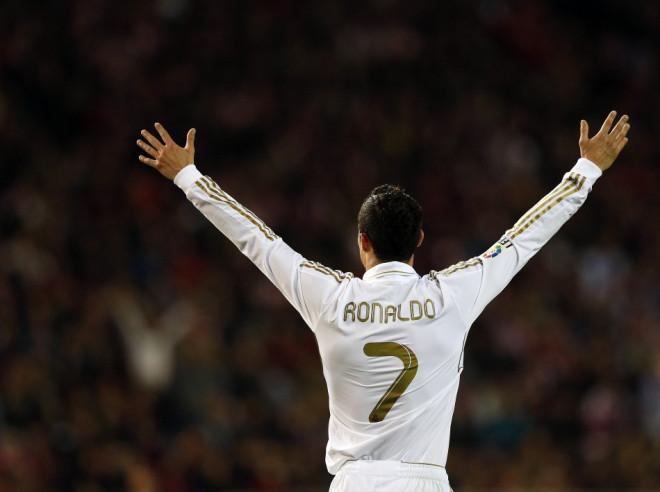 All eyes were focused on Sunday's massive Madrid derby at Vicente Calderon Stadium, which ended in a 2-2 draw to leave Real Madrid three points ahead of their city rivals Atletico.
The match, one of the most vibrant and finely-balanced derbies of recent times, saw a sterling performance from Manchester United transfer target Koke and an altogether more disappointing one from former Tottenham hero Gareth Bale.
Meanwhile, at the Camp Nou, Barcelona moved ahead of Atletico and cut Real's lead at the top of the table to one point with a 4-1 victory over Almeria at the Camp Nou, while Sevilla ground out a narrow victory over Real Sociedad.
All eyes were on Madrid at the start of the weekend, and for once Spain's capital provided a derby worthy of the hype, beginning when Karim Benzema put Real ahead in just the third minute.

There were ugly confrontations as both teams tried to gain an edge – Arda Turan was yellow-carded for protesting in the 11th minute after Sergio Ramos tripped Diego Costa inside the area with no penalty awarded.
Yet Los Rojiblancos managed to find a way through the red mist, and hit back with teo goals to take the lead before half-time.
Koke equalised in the 28th minute, smashing a right-foot shot beyond Real goalkeeper Diego Lopez to further burnish his reputation - and demonstrate to David Moyes exactly what he could buy in the summer.
Before the break Gabi Fernandez scored a second from 30 yards out, past Lopez who could do nothing to stop it. The home team proceeded to dominate the game, but Cristiano Ronaldo once again struck late to rescue Real.
The draw means Real now gone 15 years without being beaten at their city rivals' home.
Intriguingly for Arsenal fans Alvaro Morata, who has decided to leave Real at the end of the season, was left out - strengthening suggestions that he will move to the Emirates this summer.
Barcelona took advantage of the draw in Madrid with a victory which was far more difficult than the scoreline suggested.
Alexis Sanchez opened the scoring in the 9th minute and Leo Messi scored an exquisite left-foot free kick in the 24th. But three minutes later Angel Trujillo pulled one back for the Andalucian visitors.
The victory was eventually assured with goals from Carlos Puyol and Xavi Hernandez in the final 10 minutes of the match.
Elsewhere Sevilla achieved a deserved 1-0 victory against Real Sociedad thanks to a goal from Kevin Gameiro, despite a sterling performance from another Premier League target, Antoine Griezmann. The victory puts Unai Emery's squad once again in the shake-up for European places.
Results:
Atletico 2-2 Real Madrid
Barcelona 4-1 Almeria
Sevilla 1-0 Real Sociedad
Rayo 1-0 Valencia
Villarreal 1-1 Betis
Elche 1-0 Celta
Getafe 0-0 Espanyol
Levante 2-0 Osasuna
Malaga 1-1 Valladolid
Athletic 4-0 Granada