A Labour Party candidate in the forthcoming General Election said she has been inundated with sexually harassing messages on social media. Emily Owen, 22, has pleaded with voters: "Let's discuss politics, not my breasts."
Owen said she was "shocked" by the volume of messages asking her to perform sex acts for votes since entering the race to represent the Welsh constituency of Aberconwy in the next parliament.
One social media user wrote: "I'll only vote for her if she's got a decent rack. Anyone know her size? I mean she's pretty enough but haven't seen much of her body yet."
Another asked: "How many votes for a striptease?"
She also received a message, saying: "Hello young Emily. I've seen your post and it's brave for a young girl to put herself out there like that. You'll need some practice on shutting men down I should think. You can practise on me any time."
In a statement uploaded to Facebook and Twitter, Owen described other kinds of abuse she has suffered at the hands of internet trolls, including queries about her bra-size and suggestions that she has only entered politics so she can "sleep with an Oxford grad".
" I highly doubt you'll be asking the male candidates their penis size in order to make a decision about their politics..... sexism is not okay," she wrote.
Facebook users commented on the post with messages of support for Owen, however there were a few people intent on continuing to abuse the young candidate.
Jon Jay wrote: "Silly girl, don't flash parts of your body and then complain when people comment on it. This is just what we need another naive socialist snowflake. If you want to see what socialism ends up in, take a look what is happening in Venezuela."
Faye Jones said: "It's all a bit 'me me me' and I honestly wouldn't want you representing my community, not because you are young, but because you are focusing on personal attacks, which are irrelevant to your campaign."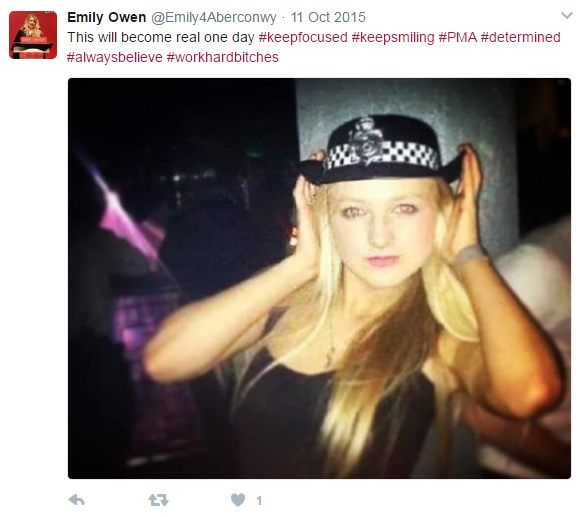 Politicians and groups from across the political divide offered there support to Emily. Labour student women said: "Full solidarity with you Emily, that is disgusting – we still have a long way to go. You're bloody fantastic for calling it out."
Owen is looking to unseat Guto Bebb, the Conservative MP for Abercowny who won by a margin of 4,000 votes at the last general election and has been the constituency's MP since 2010.
The full message, which was accompanied on Twitter with the header: "Let's discuss politics, not my breasts," reads: