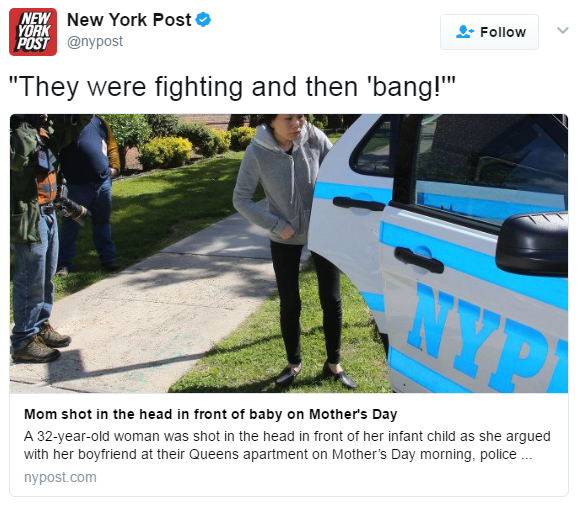 A New York woman is in hospital after being shot in the head by her boyfriend on Mother's Day. Her baby was in another room of their apartment at the time of the attack.
Xiaowei Liu, 32, is reported to have been arguing with her boyfriend at their apartment on 78th Road in Flushing, Queens, yesterday (14 May) morning. Neighbours said they heard a gunshot at around 9.40am.
"In the morning I heard the bang and the screaming," one neighbour, told the New York Post.
They were fighting and then bang! She got shot."
Miraculously, Liu is expected to survive after the bullet entered the skin on the left side of her forehead and exited the right side without penetrating her skull.
"Apparently the injury was a one-in-a-million kind of shot," a police source told New York Daily News.
Another neighbour said she saw the Liu on the communal hallway of their building just after she had been shot.
"She said: 'He shot me'," the neighbour told the New York Post. "She had black all over her face from where the gun went off. She said: 'I was shot'."
"We all heard the pop. We heard arguing before it. They are [in the apartment] directly above us," she added.
Police sources told the New York Daily News that Liu's eight-month-old daughter, who is not related to her boyfriend, and a babysitter, 48, were in another room of the apartment when the shot was fired.
Liu's boyfriend, Guohui Jiang, 43, called police after firing the weapon and reportedly said: "I think I shot my girlfriend in the head." He is facing charges including attempted murder and assault. Two guns were reportedly found at the scene.
Liu was taken to Jamaica Hospital where she is stable and expected to make a full recovery.
"You see them fighting all the time," a neighbour told the New York Daily News.