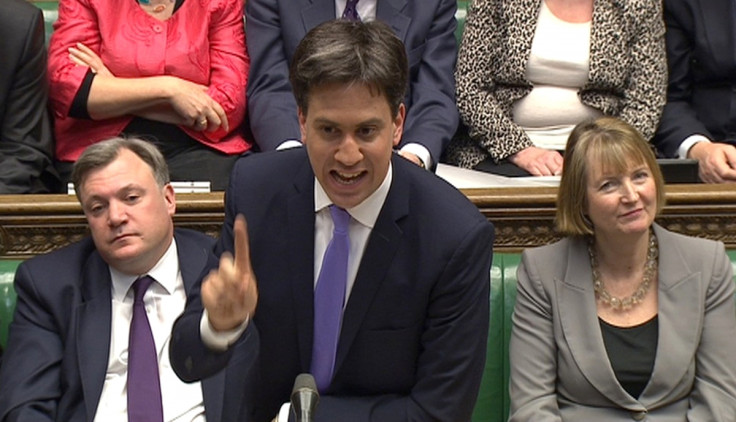 Ed Miliband will pledge that a future Labour government will tackle the "epidemic" of controversial zero-hours contracts.
The flexible employment agreements allow firms to not guarantee work for employees.
But they have come under fire from MPs and trade unions for being "exploitative".
Miliband will promise to ban the "worse abuses of the system" by enabling workers to be free to work for other employers, have a right to compensation if shifts are cancelled at short notice and, among other things, not be obliged to be available outside contracted hours.
"Zero-hour contracts have spread like an epidemic across our economy," the Labour leader will say.
He will also argue that despite the "short-term flexibility" for employers and employees, but the majority of employers do not use them because they are "incompatible with building a loyal, skilled and productive workforce".
The comments will come after the House of Commons Scottish Affairs Committee called for the majority of the employment agreements to be banned because "unscrupulous employers were exploiting the contracts".
The Office for National Statistics (ONS) upwardly revised its estimation of the number of workers on zero-hours contracts in the UK in 2013 to 582,935.
But other organisations have claimed that the number of people on the controversial agreements could be even greater.
The Chartered Institute of Personnel and Development (CIPD) estimated that the figure could be 750,000 and trade union Unite have claimed that as many as five and a half million workers in the country were on the deals offering little guaranteed work.
A separate study from the CIPD revealed that two out of five workers on the contracts said they had been informed only hours before starting work that a shift had been cancelled.
The Business Secretary Vince Cable has ruled out banning zero-hours contracts and the government is currently reviewing the employment agreements as part of a consultation.
The Department for Business told IBTimes UK:"Government recognises that a growing number of employers and individuals are using zero hours contracts.
"While for many people they offer a welcome flexibility, for others it is clear that there has been evidence of abuse around this type of employment, which can offer limited employment rights and job security.
"We believe they have a place in today's labour market and are not proposing to ban them outright, but we also want to make sure that people are getting a fair deal. This is why we conducted research last summer and carried out a consultation looking at the key concerns.
"The consultation received a high level of interest, with over 30,000 responses. We are currently analysing these and will publish our response in due course."
Case Study: Rebecca, a social care worker based in Wales

(Reuters)

Rebecca works for a private company supporting young adults with complex care needs. She is on a zero-hour contract and her hours vary enormously. For example, one week she worked 28.45 hours, and then the next she clocked-up 56 hours. Rebecca says the amount of hours she will work is a surprise every week.

But the families of the people Rebecca and her colleagues support do not understand why they are on a zero-hour contracts. This is because the clients' care needs will not decrease – they will only ever increase.

With constantly varying hours, Rebecca explains she cannot budget. She and her family are in social housing, she can claim housing and council tax benefits. But Rebecca would prefer regular hours so she can arrange appropriate childcare.

At the moment her partner is unable to work as he cannot commit to set hours. Rebecca wants the government to make companies offer a minimum of 16 hours per week for employees on zero-hour contracts unless workers ask for less in writing.