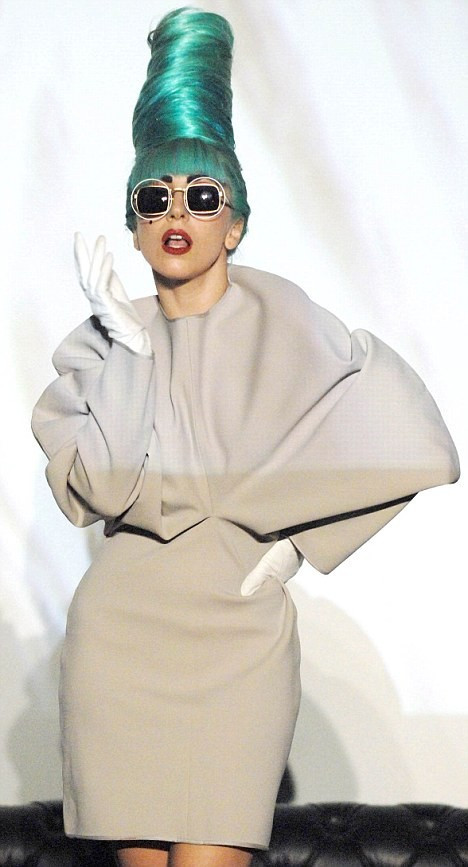 Lady Gaga, who was promoting her album Born This Way, was snapped at a press conference in Singapore last month sporting a nude coloured rubber dress by Birmingham fashion student Rebecca Short.
Gaga, who is notorious for her outlandish wardrobe choices has usually relied on a number of globally acclaimed designers to fashion eye-catching numbers - one of her favourite labels being Alexander McQueen.
Rebecca, 22, who tailored the dress for Graduate Fashion Week in London couldn't believe her luck when Lady Gaga opted for one of her designs, said the Daily Mail.
Commenting to the Mail Online on why Gaga had chosen her design, Short added:
"I think she chose it because it was stripped quite bare so could be styled however you want. She had styled it completely differently from how I had done it."
The Birmingham fashion student was on a month-long trip to Mexico, Guatemala and Belize when she first discovered that Lady Gaga had picked her dress and pictures were flooding the internet and is now hoping that this exposure will lead to future commissions, reported the Mail Online.
Gaga went on to post a photograph of her wearing the dress to her Twitpics and on her Facebook wall gaining more than 100,000 likes in less than a week along with dozens of comments, including 'gaga i love your style...go gagalicious!'
Rebecca was one of many budding designers who sent outfits to Lady Gaga's stylist in the hope that their creations would be chosen.
She said: "We all went to Graduate Fashion Week at the end of term and took our designs there. Lady Gaga's stylist was there and she asked if she could borrow the dress. I knew she had a few designs so I didn't expect to hear anything else."
Since graduating from Birmingham City University with a degree in fashion design Rebecca has landed a job with a boutique fashion label Suzannah. Her fashion hereos include Calvin Klein, Raff Simons and Jill Sander.
Short, who is now considering auctioning the dress, said that Gaga had returned the dress in impeccable condition. "It is sample size but they haven't altered it at all."