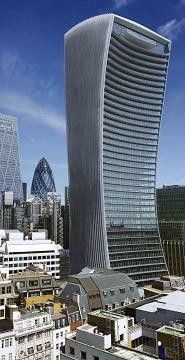 Land Securities say rental incomes for FY10 have fallen after asset sales, and is in talks to revive them by building in the heart of the City of London.
Overall, their FY results out today beat expectations by a 16.5 per cent rise in adjusted diluted net asset value to 691p.
The result it said, was due to the commercial property market going from 'downturn' to 'recovery'.
Commenting on the results, Land Securities Chief Executive Francis Salway said:
"During the year we stood back and tested our strategy. The review reaffirmed our confidence in the opportunities we see in the two largest segments of the UK commercial property market, London offices and retail."
The Group also plans to revive talk on its 'Walkie-Talkie' building in the heart of the City:
"We have an unrivalled pipeline of potential projects in our London Portfolio, with over 110,000 sq m of developments already underway and up to a further 400,000 sq m of development and refurbishment opportunities." Chief Executive Francis Salway said.
"We maintain our view that property values will rise over the next five years but, with the likelihood of volatility in consumer spending and business investment, the path may not always be smooth. We see any ripples in the trajectory as being likely to offer attractive buying opportunities."
"In retail we have plans aligned to the ongoing evolution in the sector and, through a focus on leasing and delivering
occupier led developments, we will drive growth in capital values." he added.
The Walkie-Talkie, a project designed by the architect Rafael Viñoly, was approved in July 2007 after a public inquiry and is set to be completed on Fenchurch Street in 2014. British Land, who are also developing for the City are reviving plans to build a tower on Leadenhall Street near it.
"The Company's EPS and NAV figures came in ahead of our forecasts" said Paul Pulze from Evolution Securities, "However, unlike British Land who outperformed the IPD index, the Company's portfolio performed in-line with the index."
"We see better value in British Land" he added, giving a 'neutral' rating with a target price 700p.