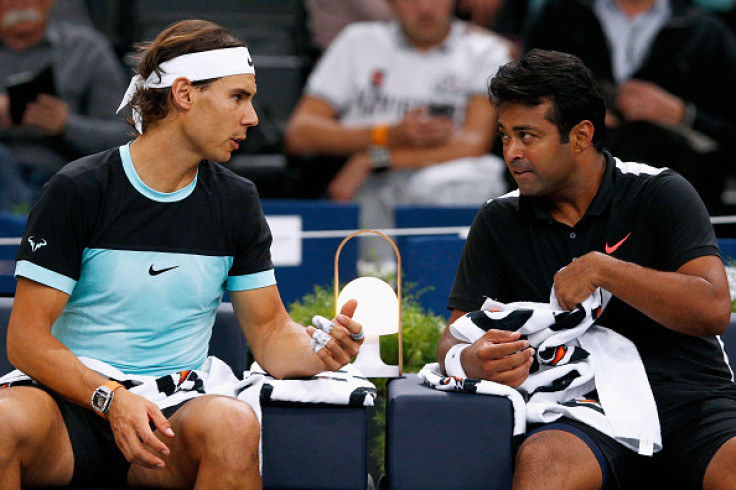 India's tennis legend Leander Paes has heaped praise on Rafael Nadal and the Spain team saying that even at this stage of this career he can learn a lot by watching the Spanish superstar train and play. Paes, who is India's most decorated tennis player with 18 Grand Slam doubles titles to his name, will lead his country as they take on Spain in the World group play-off tie of the Davis Cup.
The 43-year-old admitted that the team and line-up brought by Spain for their clash is a must-watch for budding tennis players in India. Spain's team consists of 14-time Grand Slam champion Rafael Nadal, world number 13 David Ferrer and French Open doubles winners Mark and Feliciano Lopez.
"It's a great showcase of tennis in India. If I were 9,10, 15 year-old budding athlete, I would be packing the stadium, every single day. To come and watch a 14-time Grand Slam champion is unbelievable. For me even now, at this stage of my career, where I have played for 30 years, you can come out and watch what Rafa does and learn so much", Paes said, as quoted by Indian Express.
"You can learn about the footwork, about the power, the generation of shots, the follow through, the swing, the rituals after the practice."
Nadal, whose form has nosedived in the past couple of years is still held in high esteem by Paes who has called him one of the greatest.
"Spanish team to me is one of the most professional teams. They fight together. I can't say enough of respect I have for this team, starting with Rafa, one of the greatest. I am lucky I got a chance to play doubles with him (in the Paris Masters in 2015). It's not just about how he plays tennis but the way he conducts himself. He is a great ambassador of the game", the Indian tennis legend added.
The tie between India and Spain is scheduled to take place on 16 September at the New Delhi, India.