International striker Leandro Damiao never wanted to join Tottenham Hotspur despite interest from the Premier League side in the January transfer window.
Spurs were understood to have launched a deadline-day bid for the Brazilian international, who finish last summer's London 2012 Olympic football tournament as top scorer.
But Damiao maintains that never wants to leave his homeland, despite thanking Tottenham for their interest in him.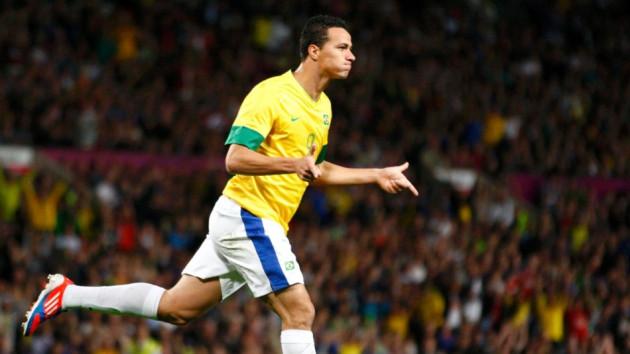 "[Internacional's] president Giovanni Luigi knows I always wanted to stay at Internacional, regardless of any offers that could come," he told Correio do Povo.
"I certainly thank Tottenham [for their interest], they are a big club in Europe, but my focus is on Inter.
"I hope to help Inter for a long time, I have a long contract and I am very happy and focused."
Despite Emmanuel Adebayor being expected to return from the African Nations Cup in time for the visit of Newcastle United on Saturday, injury to Jermain Defoe leaves Tottenham short in attack ahead of their continued attempts to qualify for the Champions League.
Defoe is expected to be out for three weeks, with Clint Dempsey or Gylfi Sigurdsson likely to partner Adebayor in the coming games, even though Harry Kane has returned from his loan spell at Norwich City.
"We'll have to scan it to see if there is more damage, but hopefully it will only be two to three weeks," manager Andre Villas-Boas said.
"He has some ligament damage to his ankle. We will have to see the full extent of the injury. But we will miss him badly."
Villas-Boas has defended Tottenham's predicament, with only one fit striker in the squad, claiming that after missing out on Damiao in January, a deal for the 23 year old won't be struck in the summer either.
"We've approached this market very sensibly," Villas-Boas claimed.
"I've said in our conversations that if (the Damiao bid) was going to go out of proportion, we would step out of it.
"We have made it public before that he is a player that we chase, but we couldn't agree on the full conditions so we've moved on."
"No I don't think (it will happen in the summer)," Villas-Boas added. "It's probably finished now."