At least four people have been killed in a major crash on the M5 involving a lorry and two cars.
The lorry, which was travelling southbound careered through the central reservation and ploughed into two vehicles heading in the opposite direction between junctions 15 and 14 in Gloucestershire.
Emergency services arrived at the scene at 2:30pm where other drivers were attempting to assist the injured.
A driver left his own car to help pull a woman from one of the vehicles. Two other men were able to rescue her two children who were screaming in fear, however the father of the children had been killed.
The eyewitness who asked not to be named told Mail Online: "The father was dead, I crawled into the car and checked his pulse. I pulled the woman, who I believe is a doctor, out of the car and she was given two pints of blood on the side of the road before she was taken to hospital.
"The woman and the children are in a critical condition," said the witness.
Dr Amer Hamed who was in a car behind helped a GP and other medics tend to the injured woman before paramedics arrived six minutes later and rushed her to hospital.
He told The BBC : "There was a lorry involved and at least two other cars. One was absolutely destroyed and another had flipped over."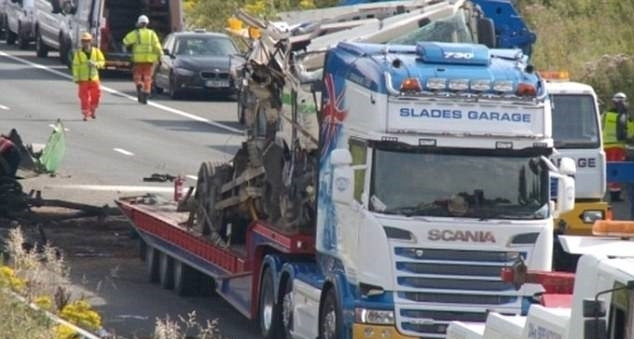 A statement by Avon & Somerset Police said: "A multi-agency operation is under way on the M5 in South Gloucestershire. We were called at just after 2.30pm to the collision between J14 and J15 involving several vehicles including a lorry. Sadly, at least four people have died.
"The motorway is now closed in both directions between J16 and J14 and emergency services are working at the scene. The closure is likely to be in place for a considerable amount of time and we'd ask people to avoid the area."
The cause of the crash is not yet known.
It is the second fatal crash on the same stretch of the M5 this week. A pedestrian died after being hit by a lorry on Thursday morning between Junction 14 Thornbury and Junction 16 Aztec West.