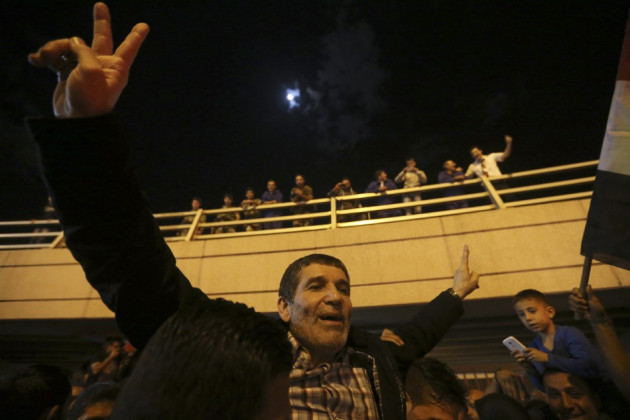 Nine Lebanese Shiite pilgrims and two Turkish pilots have reached home after a complex swap deal was struck by authorities in several countries.
The Lebanese nationals, held as captives by Syrian rebels for more than a year, were given a hero's welcome in Beirut.
"It's a strange feeling, man. After a long wait, torture, anger, they've arrived," Ali Hammoud, whose father was abducted and freed, told the Lebanon-based Daily Star.
Dozens of family members of the freed hostages thronged the Lebanese capital to welcome the returning pilgrims.
"It is indescribable. We thank God for the good and the bad. Those who call themselves the Free Syrian Army, the oppressors, who wronged us and tortured us," said one of the captives held by the Syrian rebels.
In May 2012, armed opposition groups fighting against Syrian president Bashar al-Assad kidnapped 11 Shiite pilgrims who were heading back from Iran following a visit to religious sites. Two of the hostages were later released.
The rebels claimed the pilgrims were Hezbollah fighters but their families refuted the accusation.
"I'm not Hezbollah [when they kidnapped]. [But] from today I am a soldier of [Hezbollah leader Sayyed] Hassan Nasrallah," said another detainee.
Meanwhile, in exchange, Turkish pilots Murat Akpinar and Murat Agca, who were kidnapped in Lebanon, were also freed by militants.
A private jet carried the duo from Beirut to Istanbul. They were welcomed by Turkish Prime Minister Recep Tayyip Erdogan and relatives of the pilots.
"I have just spoken with them a few moments ago. They are sending greetings to the Turkish people. They are about to depart to Turkey," Foreign Minister Ahmet Davotoglu wrote on Twitter hours before the pilots' arrival.
The pilots said they were not ill treated by their captors during the period they were held.
"The first month has been very difficult. We have been transferred eight times, each time as if it was a new kidnapping. Right after the abduction, we were brought somewhere very close to the airport. We could hear the noise of the planes. We chose to have a good understanding with them. And we did, so much that one of our [abductors] has even decided to call his new son Murat," Akpinar told reporters.