Leicester City winning the Premier League will cost British bookmakers £50m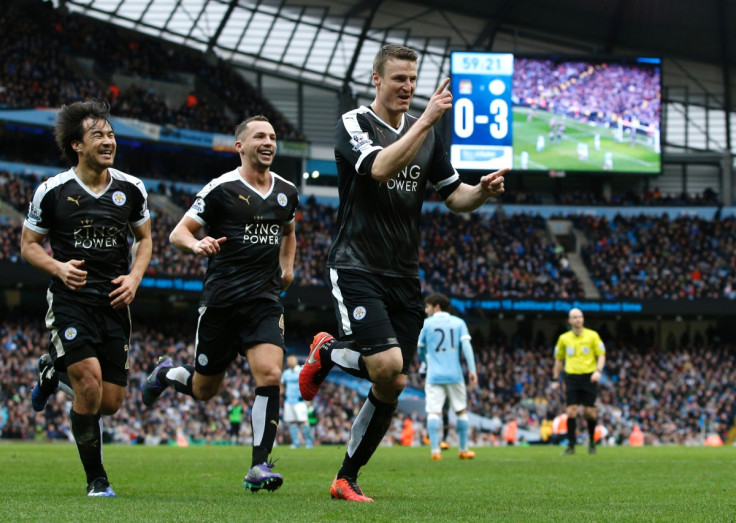 Leicester City winning the Premier League will cost bookmakers as much as £50m ($71.9m, €64.5m), according to an industry expert. John Hill, a spokesman for the bookmaking giant Coral, has revealed the Foxes' odds-defying form threatens to leave gambling firms out of pocket in a major way at the end of the season.
Claudio Ranieri's men cemented their position at the top of the table with an emphatic 3-1 win against Manchester City at the Etihad Stadium on 6 February, and Hill has admitted their title charge is not something Britain's bookmakers were expecting.
"After being as big as 5,000-1 at the start of the season, Leicester are the new favourites to win the Premier League title in what would be an incredible story," Hill told IBTimes UK. "Several small stake punters could be set to win big on the back of the Foxes' remarkable campaign, leaving Britain's bookmakers set for a £50m industry pay-out."
This view has been echoed by fellow betting expert Jessica Bridge of Ladbrokes, who said bookmakers will be taking a heavy hit in the event Leicester retain their lead at the top of the Premier League. "It's safe to say we're starting to get a little hot under the collar," Bridge told IBTimes UK. "[Some] 46 customers backed them at 5,000-1, and we face a seven-figure payout to just those punters alone."
Bridge said that while an against-the-odds title win was a "dream" for Leicester supporters, it would represent a nightmare for bookies. "The dream is becoming reality for Leicester fans, and we're staring down the barrel of a multi-million point payout should they achieve what bookies deemed unthinkable back in August," she explained.
Leicester currently have a five-point lead at the top of the Premier League following their stunning win over Manchester City. A title triumph for the Foxes would represent one of the most improbable sporting successes in recent memory.
© Copyright IBTimes 2023. All rights reserved.